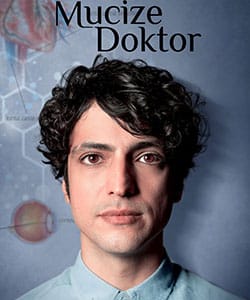 Details
Original Title: Mucize Doktor
English Title: Miracle Doctor
Also Known As: Good Doctor, Doctor Milagro
Genre: Drama, Romance
Episodes: 59+
Broadcast Network: Fox Tv
Broadcast Period: September 12, 2019 –
Production Company: MF Yapim
Director: Yusuf Pirhasan, Aytac Cicek
Screen Writer: Park Jae-Bum (original screenwriter); Pinar Bulut, Onur Koralp
Filming Locations: Istanbul, Turkey
Synopsis
This drama is a remake of Korean Drama Good Doctor (2013).
Ali (Taner Olmez) is young man who has a savant syndrome. He has faced with many difficulties throughout his life due to his special condition. When he was a little child, he did not have any friend and suffered from the bullying of the neighborhood kids. That's why, his elder brother had to take care of him all the time. One of these times, his elder brother passed away while he was trying to persuade neighborhood kids to play with them. After then, Ali was blamed for the death of his elder brother and was abandoned by his family.
Ali is left alone after the death of his elder brother. He has been raised in an orphanage and has done his best to survive in this cruel world. Even though Ali has a savant syndrome, he manages to go to medical school and graduates as the best student. He has a genius-level memory and special medical skills.

Now, Ali needs to receive his training at the hospital and start working as a doctor. Even though he applies for many hospitals, he is not accepted to receive resident training due to his special condition.
Professor Adil (Reha Ozcan), who works as the chief director at one of hospitals in Istanbul, knows Ali's special ability and wants to give him an opportunity to have a normal life. Professor Adil attempts to persuade the directors of the hospital to accept Ali for training. For this reason, he calls for Ali for an interview in Istanbul.
Upon this call, Ali travels to Istanbul for the first time in his life. When he arrives at the airport, he finds himself in the middle of an emergency. One child is seriously injured by a piece of glass that falls from the ceiling. Ali does the first aid successfully, performs operation just by the knowledge he acquired from medical books, and saves the child's life.
During this time, people at the airport record his operation and share it on social media as a miracle. Due to this emergency, Ali cannot go to his interview on time.
Meanwhile, the directors of the hospital do not want to accept Ali for a training. However, they see the video on social media that is about Ali's performing first aid at the airport. Also, the journalists come to the hospital and look for Ali. Due to the positive publicity on social media and on TV, the hospital directors have no choice but to accept Ali for training.
Ali is accepted to receive resident training for 6 months. If he ever makes a mistake during this period, he will be kicked out of the hospital and the professor Adil will resign from his position. And if Ali becomes successful during this period, his contract will be renewed and he will continue to work at the hospital.
Professor Adil is determined to support Ali throughout this trial period. He wants doctor Fersan (Onur Tuna) to mentor Ali and embrace him as a normal doctor. However, doctor Fersan does not want someone who has a savant syndrome in his team because he believes that Ali cannot become a good doctor due to his special condition.
On the other hand, Nazli (Sinem Unsal) who is a beautiful pediatric surgeon in the hospital believes in Ali and does her best to support him all the time.
During 6-month trial period, Ali has to prove that he is capable of being a good doctor. He needs to take this opportunity and does his best to be a good doctor. After starting to receive his training as a medical resident, he starts his new life in Istanbul. He moves into a new apartment and becomes a neighbor of Nazli. They become co-workers and neighbors, and as time passes, they get closer and closer.
Miracle Doctor (Mucize Doktor) tv series story is about a young doctor who has a savant syndrome and works as a pediatric surgeon. Will Ali make a mistake during 6-month trial period? Will Fersan start to trust Ali and accept him in his team? Will Ali manage to get along with the other doctors in the hospital and the patients? Will Nazli continue to support Ali all the time?
Miracle Doctor (Mucize Doktor) Tv Series Cast
Taner Olmez as Ali Vefa
Onur Tuna as Ferman Eryigit
Sinem Unsal as Nazli Gulengul
Hazal Turesan as Beliz Boysal
Ozge Ozder as Kivilcim
Murat Aygen as Tanju Korman
Firat Altunmese as Demir
Hayal Koseoglu as Acelya
Bihter Dincer as Selvi
Korhan Herduran as Gunes
Merve Dizdar as Damla
Reha Ozcan as Adil Erinc
External Links
Official Site: https://www.fox.com.tr/Mucize-Doktor/
English Wikipedia:
Imdb:
Social
Instagram: https://www.instagram.com/mucizedoktorfox/
Twitter: https://twitter.com/mucizedoktorfox
Facebook: https://www.facebook.com/mucizedoktorfox/
Youtube: https://www.youtube.com/channel/UCWFSXbEYo0PmWWokRjHdSSQ
You Might Also Like
Hekimoglu
Kalp Atisi (Heartbeat)
Miracle Doctor (Mucize Doktor) Turkish Drama Relationship Chart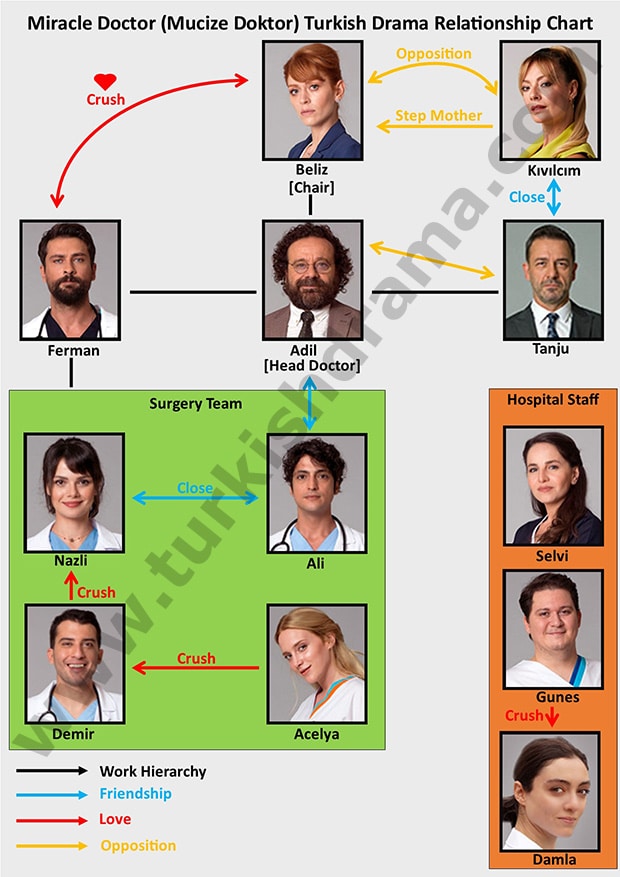 Trailer with English Subtitle
Miracle Doctor Tv Series Trailer (Eng Sub)