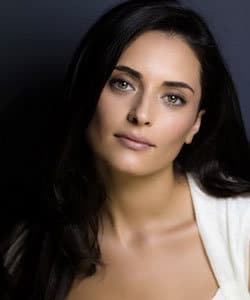 Profile
Name: Aslihan Gurbuz
Birthdate: February 16, 1983
Birthplace: Canakkale, Turkey
Height: 165 cm
Eye Color: Hazel
Hair Color: Dark Brown
Education: Selcuk University State Conservatory Theatre (Selcuk Universitesi Devlet Konservatuvari Tiyatro)
Spouse:
Biography: Aslihan Gurbuz was born in Gallipoli (Canakkale). Due to his father's job, her family moved to Bursa and Aslihan Gurbuz went to primary school there. She studied at Vocational School – Accounting and Computer. After graduation from Conservatory, Aslihan Gurbuz made her debut at popular Turkish drama Beyond Clouds (Bir Bulut Olsam). She took part theatre play named Zorla Guzellik in 2008 at Kenter theatre.
Notable Works
2005 – Big Meeting (Buyuk Bulusma) (as Seda)
2008 – Clove (Gonca Karanfil) (as Gonca)
2009 – Beyond the Clouds (Bir Bulut Olsam) (as Asiye Bulut)
2009 – Sewage (Kanalizasyon) (as Nazli) (Movie)
2010 – 2011 Marry Me (Yahsi Cazibe) (as Cazibe Abbasova)
2011 – Maze (Labirent) (as Ayla) (Movie)
2014 – Olive Hill (Zeytin Tepesi) (as Deniz Gokcener)
2015 – Magnificent Century Kosem (Muhtesem Yuzyil Kosem) (as Halime Sultan)
2016 – Bodrum Fairytale (Bodrum Masali) (as Maya)
2016 – Ember (Kor) (as Emine) (Movie)
2017 – 2018 Stiletto Vendetta (Ufak Tefek Cinayetler) (as Merve)
Awards
2011 – 38. Golden Butterfly Tv Stars Awards (38.Altin Kelebek Tv Yildizlari Odulleri) – Best Comedy Actress (Marry Me) – En iyi kadin komedi oyuncusu (Yahsi Cazibe)
2011 – Antalya Television Awards (Antalya Televizyon Odulleri) – Best Comedy Actress (Marry Me) – En iyi kadin komedi oyuncusu (Yahsi Cazibe)
2011 – AyakliGazete.com Television Stars of the Year (AyakliGazete.com Yilin Televizyon Yildizlari) – Best Comedy Actress (Marry Me) – En iyi kadin komedi oyuncusu (Yahsi Cazibe)
Social
Instagram: https://www.instagram.com/gurbuzasli/
Twitter:
Facebook:
Gallery