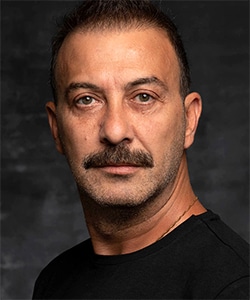 Profile
Name: Hakan Yilmaz
Birthdate: December 6, 1969
Birthplace: Trabzon, Turkey
Height: 1.78 m
Eye Color: Green
Hair Color: Black
Education: Anadolu University Communication Sciences Faculty – Cinema and Television Department (Anadolu Universitesi Iletisim Bilimleri Fakultesi Sinema ve Televizyon Bolumu)
Talent Agency: Buket Kahraman Talent Management
Spouse: Bengu Yilmaz (m. 1997 – 2011), Elif Ongel (m. 2013)
Biography: Hakan Yilmaz started acting when he was going to primary school through taking part in school theatre play. While going to high school, he took lessons of folkloric dances and modern dances. He took part in some amateur theatre plays. He made his debut with his role in popular Turkish sitcom named Together Even If We Got Divorced (Ayrilsak da Beraberiz).

Hakan Yilmaz Tv Series / Movies
1996 – Ther Is Not Any Other Istanbul (Baska Istanbul Yok)
1999 – 2004 Together Even If We Got Divorced (Ayrilsak da Beraberiz) (as Teoman Acaroglu)
2000 – Nanny (Dadi) (as Ayhan)
2000 – Sidika (as Selahattin)
2000 – Fire Ayse (Yangin Ayse) (as Muzaffer)
2000 – Little Ibo (Kucuk Ibo)
2000 – Elephants and Grass (Filler ve Cimen) (Movie)
2003 – Life Sciences (Hayat Bilgisi) (as Hakan)
2004 – Woe Is Me (Uy Basuma Gelenler) (as Hakan)
2005 – Outrageous Class 3,5 (Hababam Sinifi 3,5) (as Feza) (Movie)
2004 – When Luck Breaks the Door (Sans Kapiyi Kirinca) (as Compere) (Movie)
2005 – Kismet (as Ayhan)
2006 – Watch, If You Are a Man (Erkeksen Seyret) (as Cemil)
2007 – I Am Becoming a Father (Baba Oluyorum) (as Ozgur)
2007 – Bayrampasa: I Will Not Stay Long (Bayrampasa: Ben Fazla Kalmayacagim) (as Ahmet) (Movie)
2007 – Insanes (Deliler) (as Ege) (Movie)
2007 – 2009 European Side (Avrupa Yakasi) (as Osman Kocarslanli)
2008 – Comedy Turk (Komedi Turk) (as Ferit)
2008 – 2009 Liar Romantic (Yalanci Romantik) (as Ahmet Gokova)
2009 – Kanal-i-zasyon (as Berk) (Movie)
2010 – 2012 Marry Me (Yahsi Cazibe) (as Kemal Kukreyen)
2011 – Dirty Seven (Pis Yedili) (as Hakan)
2012 – Let's Plan a Robbery (Bana Bir Soygun Yaz) (as Onur) (Movie)
2013 – Ali Loves Ayse (Ali Ayse'yi Seviyor) (as Ali)
2013 – Brave Nurse (Cesur Hemsire) (as Cesur)
2014 – Ladybug (Bocek) (Movie)
2014 – Three Firends (Uc Arkadas) (as Murat Ozdemir)
2015 – Byzantine Games (Bizans Oyunlari: Geym of Bizans) (Movie)
2018 – Koca Koca Yalanlar (as Ahmet)
2021 – Aykut Eniste 2 (as Talat) (Movie)
2022 – 2023 Kurulus Osman (as Kantakuzenos)
2022 – Ask Cagirirsan Gelir (as Yalcin) (Movie)
2023 – Come What May (Kendi Dusen Aglamaz) (as Nurettin Soner)
Social
Instagram: Instagram – oyunadami
Twitter: Twitter – @HakanYilmaz
Facebook:
Mail:
Gallery