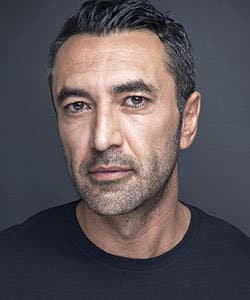 Profile
Name: Mehmet Kurtulus
Birthdate: April 27, 1972
Birthplace: Usak, Turkey
Height: 186 cm
Eye Color: Dark Brown
Hair Color: Black
Education:
Talent Agency:
Spouse: Désirée Nosbusch (m. 2007 – present)
Biography: Mehmet Kurtulus is the son of a Turkish family who migrated to Germany for work. He grew up in Salzgitter, Germany. His brother Tekin Kurtulus is also an actor and took part in tv series Lenßen & Partner broadcasted in German Sat.1 tv channel. Mehmet Kurtulus started his acting career in 1989 at his school theatre in Fredenberg, Germany. After graduating in 1991, he continued theatre as an amateur. In 1993, he became a professional theatre player and started to work at Braunschweig State Theatre. In 1995, he acted in theatre play named Komödie am Winterhuder Fährhaus in Hamburg. During that time, he was recognized by popular actress Evelyn Hamann and started to take part in TV series named Episode. After he acted as a lead character in movie Kurz und Schmerzlos (Kısa ve Acısız), Mehmet Kurtulus became very popular.
Mehmet Kurtulus Tv Series / Movies
1998 – Short Sharp Shock (Kurz und Schmerzlos) (Kisa ve Acisiz) (the movie)
2000 – Im July (Ben Temmuz) (as Isa) (Movie)
2001 – The Tunnel (as Vittorio 'Vic' Castanza) (Movie)
2001 – Heart (Herz) (as Cem Ruya) (Movie)
2002 – Boran (as Deniz Akim) (Movie)
2002 – Naked (Nackt) (as Dylan) (Movie)
2002 – When Abdulhamid is Going (Abdulhamid Duserken) (as Sefik) (Movie)
2004 – Head-On (as Barmann Istanbul) (Movie)
2004 – Soundless (Lautlos) (as Sicherheitschef des Russen) (Movie)
2004 – People of Hurricane (Kasirga Insanlari) (as Selcuk)
2005 – Love in Saigon (Eine Liebe in Saigon) (as Robin) (Movie)
2006 – Pars: Operation Cherry (Pars: Kiraz Operasyonu) (as Atilla) (Movie)
2007 – Caccia Segreta (as Gandhar) (Movie)
2009 – Transfer (as Laurin) (Movie)
2009 – Vasha (as Artur) (Movie)
2014 – Big Game (Buyuk Oyun) (as Hazar) (Movie)
2014 – Head Full Of Honey (Honig Im Kopf) (as Dr. Holst) (Movie)
2015 – 8 Seconds (8 Saniye) (as Sami) (Movie)
2015 – Famous Five 4 (Funf Freunde 4) (as Jahre) (Movie)
2015 – Magnificent Century Kosem (Muhtesem Yuzyil Kosem) (as Dervis Pasha)
2015 – Clair Obscur (Tereddut) (as Cem) (Movie)
2016 – Snowflake (Schneeflockchen) (as Feuer) (Movie)
2018 – The Protector (Hakan: Muhafiz) (as Mazhar)
2018 – Lady Winsley (as Fergan) (Movie)

Awards
1998 – Bronzener Leopard – Locarno Uluslararasi Film Festivali Kisa ve Acisiz filmi, En Iyi Oyuncu Kisa ve Acisiz filmi.
1998 – Adolf-Grimme-Preis Kurz und schmerzlos filmi En Iyi Oyuncu
Social
Instagram: https://www.instagram.com/mehmetkurtulusofficial/
Twitter:
Facebook:
E-Mail:
Trivia
Body Type:
Skills:
Star Sign:
Blood Type:
Hobbies:
Mehmet Kurtulus Gallery