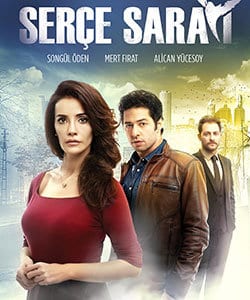 Details
Original Title: Serce Sarayi
English Title: My Destiny
Also Known As: The Palace of Serce
Genre: Romance, Drama
Episodes: 13
Broadcast Network: StarTv
Broadcast Period: March 5, 2015 – June 14, 2015
Production Company: Endemol
Director: Mesude Erarslan
Screen Writer: Arzu Mutlu Dastan, Mustafa Mutlu, Nuriye Bilici, Rodi Guven Yalcinkaya
Synopsis
Serce (Songul Oden) is a middle aged woman who lives in the poor neighborhood of Istanbul with her two sons and her sister. After her husband's death in a car accident 2 years ago, Serce devotes her life to her children and sister. She still mourns for her dead husband and does not want to get married again even though there are many men who want to get married to her.
One day, Serce wants to help her best friend Aliye (Selen Ozturk) for chasing her husband. They suspect that Aliye's husband has a love affair and for this reason, they secretly chase him. Eventually, they find out Aliye's husband with another woman. However, the reality is not what it looks like! That woman, in fact, is the mistress of Serce's husband.
Out of pure coincidence, Serce learns her husband's betrayal. Her whole world turns upside down. She learns that her husband had a love affair with another woman before he died and had an illegitimate son from this love affair. This fact changes Serce's life forever. Now, she does not want to be faithful toward her dead husband.

Upon learning her husband's betrayal, Serce accepts the marriage proposal of an old man but gives up at the last minute since the man does not want her children. After learning this marriage issue, Serce's mother-in-law Safiye (Gulen Karaman) gets angry and decides to sale Serce's house. Serce does not want to step back because she knows that she is absolutely right and it is her husband who has made this big mistake. Thus, Serce starts to work in a food company to raise money that is enough to buy the house where she and her children live.
Meanwhile, Serce's first love Kadir (Mert Firat) returns to their neighborhood and things get complicated. Kadir, who is a taxi driver, wants to be close to Serce again and tries to gain her trust. However, Serce is tired of being cheated by the ones whom she has trusted and loved most.
In my destiny tv series story, you will explore the hard life a widow woman Serce and her struggle to stand upright against everyone. Will Kadir manage to gain Serce's trust again? Will Serce forgive his first love Kadir and start a new relationship with him? Will Serce choose Ali Riza or Kadir?
My Destiny Cast
Songul Oden as Serce
Mert Firat as Kadir
Alican Yucesoy as Ali Riza
Esra Dermancioglu as Sula
Serkan Ercan as Bulent
Gulen Karaman as Safiye
Turgay Kanturk as Memduh
Selen Ozturk as Aliye
Ilayda Alisan as Sinem
Erkan Bektas as Deli Mahir
Gursu Gur as Kamil
Selen Domac as Nermin
Alihan Turkdemir as Umut
Ismail Ege Sasmaz as Tolga
Ismail Demirci as Ramazan
External Links
Official Site: http://www.startv.com.tr/video/arsiv/dizi/serce-sarayi
English Wikipedia:
Imdb:
Social
Twitter: https://twitter.com/sercesarayidizi
Instagram: https://www.instagram.com/sercesarayidizi/
Facebook: https://www.facebook.com/sercesarayi
My Destiny (Serce Sarayi) English Sub Trailer
My Destiny (Serce Sarayi) Trailer Eng Sub
You Might Also Like
Fazilet Hanim and Her Daughters (Fazilet Hanim ve Kizlari)
Birds Without Wings (Kanatsiz Kuslar)