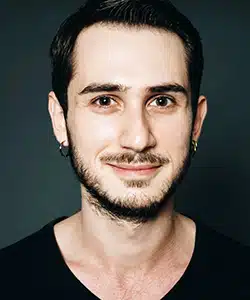 Profile
Name: Orkuncan Izan
Birthdate: 1992
Birthplace: Ankara, Turkey
Height: cm
Eye Color: Brown
Hair Color: Black
Education: Bilkent University – Theatre (Bilkent Universitesi MSSF Tiyatro Bolumu), Acting lessons at Mujdat Gezen Art Center (Mujdat Gezen Sanat Merkezi Oyunculuk)
Talent Agency: Rsd Iletisim
Spouse:
Biography: Orkuncan Izan was born in Ankara in 1992. After studying theatre at Bilkent University, he also took acting lessons at Mujdat Gezen Art Center. Orkuncan Izan started his acting career with theatre plays. He is an actor of RSD Iletisim. His theatre play named Misket became very popular.

Orkuncan Izan Tv Series / Movies
Awards
2022 – Yeni Tiyatro Dergisi Emek ve Basari Odulleri – En Iyi Cikis Yapan Erkek Oyuncu (Misket)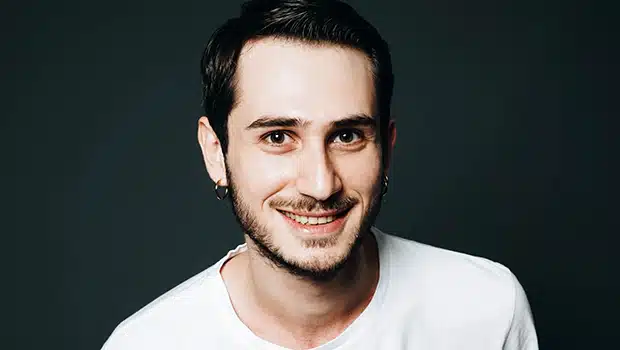 Theatre Plays
2010 – Fehim Pasa Konagi
2011 – Kac Baba Kac
2011 – Sahlari Da Vururlar
2010 – Mufettisler Mufettisi
2014 – Hitler ya da Ozgurluk
2015 – Kedi'nin Pencesi
2016 – Lefty'yi Beklerken
2017 – 39 Basamak
2017 – Japon Kuklasi
2018 – The Blue Hotel
2018 – La Ronde
2019 – Kuvayi Milliye Destani
2021 – Misket
From the Interview with Orkuncan Izan
How did you cross paths with Turgay, both the author of the theatre play Misket and your playmate?
Turgay was my classmate from the Department of Theater at Bilkent University. We had a dream to make a theatre at school. We used to come to Istanbul and watch games all the time. In this way, we were more encouraged. After graduation, we settled in Istanbul. We were lucky and now we are playing at the same theatre play together.
How did this journey from Ankara to Istanbul start?
Theater is learned in Ankara, but it is performed in Istanbul. Unfortunately, our opportunities in Ankara are very limited. I knew that somehow my path would fall on Istanbul. I made all my preparations accordingly. I am very happy to be here.
Is there a moment that makes you say that 'I am glad I have become an actor?'
While I was studying Archaeology at Hacettepe University, I was acting as a hobby at Ankara Mujdat Gezen Atelier. I was nominated for Best Supporting Actor at the Sadri Alisik Awards with the theatre play I acted there. In that moment, I realized that acting was not a hobby for me. Since I could not do theater together with the school, I dropped out of Archaeology and moved to the Theater Department of Bilkent University.
Making art in Turkey and being an artist is getting more and more difficult day by day. Does it scare you?
I don't think acting is about age. It is much more difficult to make theater for a young person, but when I look at the plays I watch, I see that the young generations of newly graduated people give very good performances. When you pursue the work you truly believe in, life pays off for you.
Social
Instagram: @orkunizan
Twitter:
Facebook:
E-Mail:
Trivia
Body Type:
Skills:
Zodiac Sign:
Blood Type:
Hobbies:
Weight: