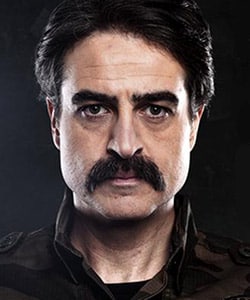 Profile
Name: Bulent Alkis
Birthdate: July 25, 1974
Birthplace: Izmir, Turkey
Height: 186 cm
Eye Color: Green
Hair Color: Black
Education: Dokuz Eylul University Conservatory – Acting (Dokuz Eylul Universitesi Konservatuari Oyunculuk Bolumu)
Talent Agency: Ali'sabuncugil Management
Spouse: Esin Alkis
Children: Duru Alkis
Biography: Bulent Alkis was born in 25 July 1974 in Izmir. After high school, he worked at theatres such as Siirci and Tiyatro Merdiven. In 1992, he worked at Konak Municipality Theatre and took part in various theatre plays. After graduating from Dokuz Eylul University, he moved to Istanbul and worked at various theatres such as Pinar Children Theatre, Levent Kirca and Oya Basar Theatre, Masal Gercek Theatre, Hadi Caman Yeditepe Oyunculari, Kukla Cocuk Tiyatrosu, and Uskudar Cocuk Tiyatrosu.
Bulent Alkis Tv Series / Movies
1999 – Kucuk Besleme (as Yigit)
2002 – We Fall in Love With You (Biz Size Asik Olduk) (as Kamuran)
2020 – Bullet Wound (Kursun Yarasi) (as Hamit)
2003 – Hadi Uc Bakalim
2004 – The Rose and The Thorn (Cemberimde Gul Oya) (as Salih)
2005 – Kopek (as Salih)
2005 – Misi (as Hasan)
2007 – Sweet Trouble Fadime (Tatli Bela Fadime) (as Vedat)
2008 – Back Streets (Arka Sokaklar) (as Taner)
2009 – Bu Kalp Seni Unutur Mu (as Huseyin)
2011 – The Girl I Loved (Bir Cocuk Sevdim) (as Kerem)
2012 – Iffet
2012 – Gallippoli 1915 (Canakkale 1915) (as Mahmut Basri) (Movie)
2013 – Her Sey Yolunda (as Sami Yavuz)
2014 – Filinta (as Abdulaziz)
2015 – Kirimli (as Mustafa) (Movie)
2015 – Rebellion (Darbe) (Movie)
2016 – Askin 5 Hali (Movie)
2016 – Alemde 1 Gece (as Ozan) (Movie)
2017 – Dayan Yuregim (as Tahir)
2017 – 4N1K (Movie)
2017 – Isimsizler (as Dayi: Hasan Bozkirli)
2018 – 4N1K 2 (Movie)
2018 – 4N1K New Beginnings (4N1K: Yeni Baslangiclar) (as Tarik Dogan)
2019 – All In One (Tek Yurek) (as Riza)
2019 – The Pocket Hercules Naim (Cep Herkulu: Naim Suleymanoglu) (as Atalay Goktuna) (Movie)
2020 – Robbery Game (Soygun Oyunu: Buyuk Vurgun) (as Halil Ay) (Movie)
2020 – The Great Seljuks: Guardians of Justice (Uyanis: Buyuk Selcuklu) (as Omer Hayyam)
Awards
Theatre Plays
2011 – Cam
2014 – Kurusiki
2017 – Sevgilime Goz Kulak Ol
2019 – Sevmekten Oldu Desinler
2020 – Karanlikta Komedi
Social
Instagram: https://www.instagram.com/bulentalkis/
Twitter:
Facebook:
E-Mail:
Trivia
Body Type:
Skills:
Zodiac Sign:
Blood Type:
Hobbies:
Weight: 80 kg
Bulent Alkis Gallery