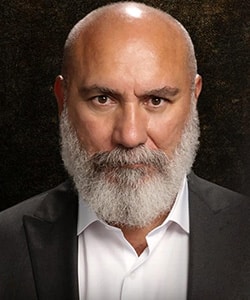 Profile
Name: Mustafa Avkiran
Birthdate: March 3, 1963
Birthplace: Gaziantep, Turkey
Height: 172 cm
Eye Color: Brown
Hair Color: Grizzle
Education: Mimar Sinan University State Conservatory – Theatre (Mimar Sinan Universitesi Devlet Konservatuari Tiyatro Bolumu)
Talent Agency: Yasemin Ozbudun Talent Management
Spouse: Ovul Avkiran (m. 1993 – present)
Biography: Mustafa Avkiran was born in 3 March 1963 in Gaziantep. After graduating from Mimar Sinan University in 1983, he started to work at Istanbul State Theatre. Mustafa Avkiran started his career as a director in 1987 with a theatre play named Little Prince (Kucuk Prens). He worked in Istanbul, Van, Ankara, Antalya, Bursa and Trabzon State Theatres, Istanbul Municipality City Theatre and Bakirkoy Municipality City Theatre. He worked as a manager at Antalya State Theatre during 1993-1995. Mustafa Avkiran took part in various television projects and became popular with his role in popular Turkish series Endless Love (Kinali Kar).

Mustafa Avkiran Tv Series / Movies
1987 – Atesten Gunler (as Salim)
1989 – Ayasli ve Kiracilari
1991 – Yalnizlar
1994 – Zontellektuel Abdullah
1995 – The Man in the Street (Sokaktaki Adam) (as Yakup) (Movie)
1996 – Istanbul Beneath my Wings (Istanbul Kanatlarimin Altinda)
1998 – Cumhuriyet (as Kilic Ali)
1998 – Kayikci (as Sali Urphalioglu) (Movie)
1999 – Kurtlar Sofrasi
1999 – 2001 Story of Snake (Yilan Hikayesi)
2000 – Kursun Kalem
2001 – Pencereden Kar Geliyor
2001 – The Only Journey of His Life
2002 – 2014 Endless Love (Kinali Kar) (as Cabbar)
2004 – Beni Bekledinse (as Cemil) (Movie)
2005 – Kopek (as Resat)
2006 – Bride Ezo (Ezo Gelin) (as Bilal)
2007 – Happiness (Mutluluk) (as Ali Riza) (Movie)
2008 – 2010 Fall of Leaves (Yaprak Dokumu) (as Mithat Kara)
2010 – Hunting Season (Av Mevsimi) (as Muslum) (Movie)
2011 – Karakol (as Metin)
2011 – 2013 Kuzey Guney (as Sami Tekinoglu)
2013 – 2014 The Fugitive (Kacak) (as Ismet Ali Topcuoglu)
2015 – Sevdam Alabora (as Ali Hikmet)
2015 – Delibal (as Hayri) (Movie)
2015 – 2016 Filinta (as Davut Pasa)
2016 – Kacis (as Sadik) (Movie)
2017 – 2018 New Bride (Yeni Gelin) (as Kalender / Kamil)
2019 – Azize (as Barbaros Karakaya)
2020 – 2021 The Pit (Cukur) (as Cengiz Erdenet)
2021 – One of Us (Icimizden Beri) (as Hunkar Aladag)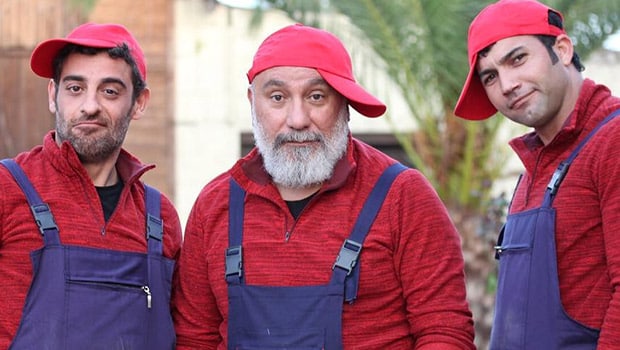 Awards
1992 – Theatre Critics Association Awards (Tiyatro Elestirmenleri Birligi Odulleri) – Best Director of the Year (Oresteia) – Yilin Yonetmeni (Oresteia)
1993 – Ankara Art Association (Ankara Sanat Kurumu) – Praiseworthy Director – Ovguye Deger Yonetmen
1994 – Istanbul Ismet Kuntay Awards (Istanbul Ismet Kuntay Odulleri) – Best Director – En Iyi Yonetmen
1995 – 32. Antalya Golden Orange Film Festival (32. Antalya Altin Portakal Film Festivali) – Best Actor in Supporting Role (The Man in the Steet) – En Iyi Yardimci Erkek Oyuncu (Sokaktaki Adam)
1995 – 18. SIYAD Turkish Cinema Awards (18. SIYAD Turk Sinemasi Odulleri) – Best Actor in Supporting Role (The Man in the Street) – En Iyi Yardimci Erkek Oyuncu (Sokaktaki Adam)
2003 – 7. Afife Theatre Awards (7. Afife Tiyatro Odulleri) – Best Director of the Year (Ayaktakimi Arasında) – Yilin En Basarili Yonetmeni (Ayaktakimi Arasinda)
2003 – Istanbul Theatre Journal (Istanbul Tiyatro Dergisi) – Best Director (Ayaktakimi Arasinda) – En Basarili Yonetmen (Ayaktakimi Arasinda)
2004 – Theatre Critics Association Awards (Tiyatro Elestirmenleri Birligi Odulleri) – Best Theatre of the Year (Ayaktakimi Arasında) – Yilin Tiyatro Odulu (Ayaktakimi Arasında)
2008 – 34. Istanbul Ismet Kuntay Awards (34. Istanbul Ismet Kuntay Odulleri) – Special Jury Award – Secici Kurul Ozel Odulu
Theatre Plays
1984 – Komedi Sanati
1984 – Kucuk Nasrettin
1985 – Kizilderililer
1986 – Cadilar Macbeth'i
1986 – Sevgili Doktor
1992 – Oresteia
1994 – Mezopotamya Uclemesi
1996 – O Sali
1999 – Geyikler Lanetler
2000 – Dumrul ile Azrail
2002 – Ay Tedirginligi
2003 – Ayaktakimi Arasinda
2004 – Ashura
2005 – Donmus
2006 – Oyunu Bozun!
2007 – Ya Seni Ruyasinda Bir Daha Hic Gormezse
2012 – Ay Ecesi
2020 – Dumrul ile Azrail
2021 – Susa ile Kiki: Yer ile Gok Arasinda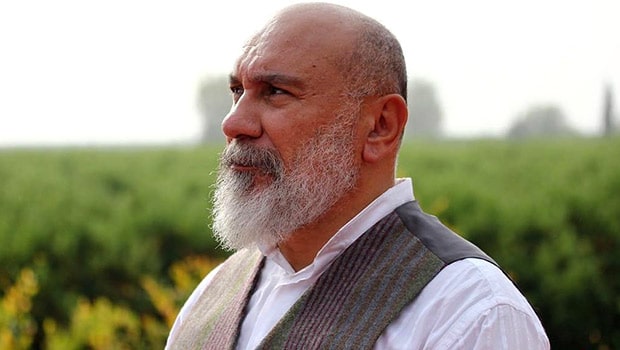 Social
Instagram: Official Instagram Account
Twitter: Official Twitter Account
Facebook:
E-Mail:
Trivia
Body Type:
Skills:
Zodiac Sign: Pisces
Blood Type:
Hobbies:
Weight: