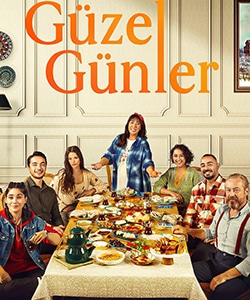 Details
Original Title: Guzel Gunler
English Title: Forever Together
Also Known As: Good Days
Genre: Romance, Comedy, Family
Episodes: 13+ (each episode is 150 minutes)
Broadcast Network: Show TV
Broadcast Period: November 6, 2022 – present
Production Company: TMC Film
Director: Osman Tasci
Screen Writer: Selin Tunc
Filming Locations: Istanbul, Van
Synopsis
Mihran (Burak Dakak) and Selma (Leyla Tanlar) were born at the same time. According to a wise man in their city, these two persons are destined to love each other but fall apart due to a tragedy.
As the wise man said, Mihran and Selma have grown together and fallen in love with each other. They are engaged but shortly after they get engaged, they break up. Everyone thinks that Selma has set a house on fire. Upon this tragedy, Mihran does not talk with Selma and moves to Istanbul together with her mother. He leaves everything behind without even trying to understand the truth behind this tragedy.

7 years later, Selma learns that she and her ex-fiancée Mihran have inherited a house in Istanbul. Upon learning about this inheritance, Selma decides to go to Istanbul and sell the house. She sells everything in her hometown and moves to Istanbul together with her little sister.
Meanwhile, Mihran is living with a very large family in Istanbul. He lives happily with his mother Saliha (Seray Gozler), aunt Kiymet (Binnur Kaya), and nephews Fusun (Ecem Erkek), Atakan (Olgun Toker), and Aysim (Dora Dalgic).
At the same time, Mihran has been dating a beautiful girl Alya (Oya Ilogullari) who comes from a wealthy family. He works as a jewelry designer at Alya's family business. He is about to get engaged with Alya.
However, the lives of Mihran and his family changes all of a sudden upon the arrival of Selma. When Selma comes to Istanbul, she wants to speak with Mihran. She goes to Atakan's coffee shop and does her best to inform Mihran about inheritance. Her arrival turns everything upside down.
While Selma and Mihran try to sell the house that they have inherited, they get closer and closer. Their feelings toward each other revive even though they try to keep away from each other.
Forever Together (Guzel Gunler) tv series story is about Selma and Mihran who are destined to be together but are apart due to a tragedy in the past. Will Selma and Mihran manage to sell the house which they inherited? Will Mihran get engaged with Alya after seeing Selma? What will Alya do when she finds out that Selma is Mihran's ex-fiancee? Will Selma find a new house in Istanbul and live happily together with her little sister? Will Altan and Atakan become successful at their coffee shop? Will Kismet and Hakim get along well even though they run the same business in the same neighborhood? Will Fusun get over her break-up from her fiancée?
Forever Together (Guzel Gunler) Tv Series Cast
Additional Cast Members
Oya Ilogullari as Alya
Duygu Kose as Leylim
Dora Dalgic as Aysim
Edip Saner as Cetin
Enginay Gultekin as Dilsat
Dogan Can Sarikaya as Derin
Characters:
Mihran is a successful jewelry designer. He never forgets Selma but he decides to continue his life after he breaks up with her. He thinks that Selma set fire to his house and for this reason, he leaves everything behind and moves to Istanbul.
Selma is a beautiful girl who lives in Van. After her mother passes away, she dies her best to raise her little sister. She becomes both a mother and father for her little sister who has some learning disability. Selma moves to Istanbul to provide a good education for her sister.
Alya (Oya Ilogullari):
Alya is Mihran's fiancee. She comes from a wealthy family. Even though she has a very good relationship with Mihran, she understands that he is falling apart from her.
Kismet is the mother of Atakan, Fusun, and Aysim. She runs a small restaurant and support financially her family.
Saliha (Seray Gozler):
Saliha is the mother of Mihran. She has a secret about her past. She does not want her son Mihran to become together with Selma. She does her best to keep Selma away from her family.
Atakan is a successful barista. He works together with Altan and develops some feelings toward her.
Altan works at the coffee shop together with Atakan. She has some feelings toward Atakan.
Fusun is a cheerful girl. After she breaks up with her fiancée, she cannot find peace at home.
External Links
Official Site: Broadcast Network
English Wikipedia:
Imdb:
Social
Instagram: @diziguzelgunler
Twitter: @diziguzelgunler
Facebook: @diziguzelgunler
Youtube Channel: @guzelgunlerdizi
You Might Also Like
Between Us (Aramizda Kalsin)
My Dear Family (Canim Ailem)
Forever Together (Guzel Gunler) Turkish Series Trailer (with English Subtitle)
Forever Together (Guzel Gunler) Tv Series Trailer (Eng Sub)