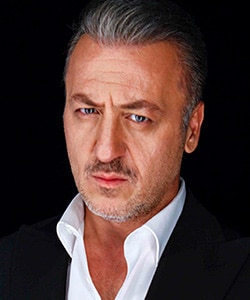 Profile
Name: Baris Falay
Birthdate: April 9, 1972
Birthplace: Balikesir, Turkey
Height: 174 cm
Eye Color: Blue
Hair Color: Grizzle
Education: Ankara University Theatre (Ankara Universitesi Dil ve Tarih-Cografya Fakultesi Tiyatro Bolumu)
Talent Agency:
Spouse: Esra Ronabar (m. 2006-present)
Children: Mavi Ruzgar Falay
Biography: Baris Falay was born on 9 April 1972 in Balikesir Edremit. Due to the fact that his father is a civil servant, he lived in different cities throughout his life. Baris Falay is a graduate of Ankara University Language, History and Geography Faculty, Theatre School. After working 2 years in Ankara State Theatre, he started to work in Izmit City Theatres. Baris Falay took part in various theatre plays such as "Hamlet", "Uc Kurusluk Opera", "Misafir", "Kamyon", "Roberto Zucco", "Kirmizi Yorgunlari", "Azizname", "Baris", "Bahar Noktasi", "Yasar Ne Yasar Ne Yasamaz", and "Karar Kimin". Baris Falay started his television career with Turkish series Taxi Station (Cicek Taksi) but he became very popular with his role as Kerpeten Ali in popular Turkish series Ezel.
Baris Falay Tv Series / Movies
1995 – Cicek Taxi (Cicek Taksi)
2001 – Nanny (Dadi) (as Safak)
2001 – Sweet Life (Tatli Hayat)
2001 – Bizim Cocuklarimiz
2001 – 90-60-90
2002 – Cousins (Kuzenlerim) (Teacher Engin)
2002 – Half of Apple (Yarim Elma)
2004 – Aliye (as Mucahit Gurboga)
2004 – My Wife and My Mom (Karim ve Annem)
2006 – Bebegim (as Yavuz Koroglu)
2007 – Outside the Circle (Cemberin Disinda) (Mafia)
2008 – Seytanin Pabucu (as Niyazi) (Movie)
2008 – Kirpi (as Jilet Sadi) (Movie)
2009 – Istanbul Cocuklari
2009 – 2011 Ezel (as Ali Kirgiz – Kerpeten Ali)
2011 – 2012 The Girl with Red Scarf (Al Yazmalim) (as Cemsit)
2011 – And Then What? (Ya Sonra) (as Cem) (Movie)
2013 – 2015 Tide (Medcezir) (as Selim Serez)
2015 – 2017 Broken Pieces (Paramparca) (as Harun Erguvan)
2020 – The Agency (Menajerimi Ara) (as Kirac Ozdal)
Social
Instagram: https://www.instagram.com/bfalay/
Twitter: https://twitter.com/bfalay
Facebook:
E-Mail: