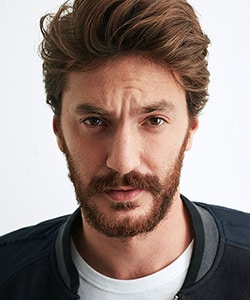 Profile
Name: Sarp Can Koroglu
Birthdate: July 14, 1990
Birthplace: Istanbul, Turkey
Height: 175 cm
Eye Color: Brown
Hair Color: Light Brown
Education: Mimar Sinan University Archeology (Mimar Sinan Universitesi Arkeoloji Bolumu)
Talent Agency: Gaye Sokmen Ajans
Spouse:
Biography: Sarp Can Koroglu was born in 14 July 1990 in Sisli / Istanbul. He lived in Bolu until he finishes high school and after then, he moved to Istanbul to study archeology at Mimar Sinan University. Sarp Can Koroglu also took acting lessons from Academia 35.5 (Akademi 35 Bucuk).
Sarp Can Koroglu Tv Series / Movies
2010 – Elde Var Hayat (Student)
2012 – The Girl Named Feriha (Adini Feriha Koydum) (as Bulent Seymen)
2014 – Kurt Seyit and Shura (Kurt Seyit ve Sura) (as Boris)
2015 – 2016 Sunshinegirls (Gunesin Kizlari) (as Emre)
2016 – 2017 Broken Pieces (Paramparca) (as Mithat)
2016 – Love of My Love (Hayatimin Aski) (as Hakan)
2017 – Groom Side (Damat Takimi) (as Yigit) (Movie)
2018 – 2019 Forbidden Fruit (Yasak Elma) (as Kemal Karaca)
2020 – Mr. Wrong (Bay Yanlis) (as Serdar Ozturk)
Awards
Social
Instagram: https://www.instagram.com/sarpcan/
Twitter: https://twitter.com/SarpCanKoroglu
Facebook:
E-Mail:
Trivia
Body Type:
Skills:
Star Sign:
Blood Type:
Hobbies:
Language: Turkish (native), English
Weight: 85 kg
Sarp Can Koroglu Gallery