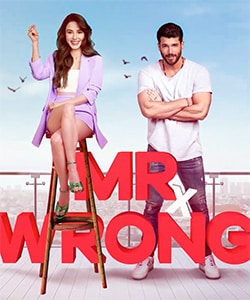 Details
Original Title: Bay Yanlis
English Title: Mr. Wrong
Also Known As: Signor Sbagliato
Genre: Romance, Comedy
Episodes: 12+
Broadcast Network: Fox Tv
Broadcast Period: 26 June 2020 –
Production Company: Gold Film
Director: Deniz Yorulmazer
Screen Writer: Asli Zengin, Banu Zengin
Filming Locations: Istanbul, Turkey
Synopsis
Ezgi (Ozge Gurel) is a beautiful girl who works as a public relations specialist. She is tired of wrong relations and does not understand where she does wrong. Even though she devotes her life for her boyfriend, she ends up disappointment all the time.
Her latest relationship becomes a disappointment too. Ezgi organizes a surprise birthday party for her boyfriend Soner (Taygun Sungar) whom she has been dating for 3 years and expecting to get married. However, she discovers that her boyfriend has been having a love affair.
Ezgi breaks up Soner but she keeps complaining about her life. She realizes that she is destined to find wrong guys. 3 months after ending her relationship, she decides to focus on her work-life and aims to become a successful career woman.

However, Ezgi finds out that her junior is promoted at the workplace and she is punished just because she has not focused on her work lately. Even though Ezgi has been working at that workplace for almost 7 years, she becomes unemployed all of a sudden.
In order to get consultation from her best friends and to forget all the bad things in her life, Ezgi organizes a dinner at a fancy restaurant. However, her friends cancel their plan at the last minute due to unanticipated emergencies.
Ezgi becomes all alone at the restaurant and gets drunk. She does not remember afterwards and the next day, she finds out that she has spent her night at the house of the barman whom she met at the restaurant.
Ozgur (Can Yaman), who helps Ezgi at the restaurant, is a very wealthy restaurant owner and living a sloppy but happy go lucky life. Like his name, he is free-spirited (Ozgur means free-spirited in Turkish).
Ozgur enjoys working as a barman and does not believe in love. When Ezgi gets drunk and could not tell her home address, Ozgur has nothing to do but bring her to his house.
In the morning, Ezgi and Ozgur think that they would not meet again. However, nothing happens as expected and their destinies interact out of pure coincidence.
Ezgi moves out from her house because her house contract is signed on behalf of his ex-boyfriend. Hence, she moves into her cousin's house until she finds a new place for herself. Her life changes dramatically when she discovers that Ozgur is staying at the next apartment and their houses share the same terrace.
When Ezgi mentions that Ozgur is the guy who helped her when she got drunk, her friends warn her by saying that he is Mr. Wrong. In order to be at the safe zone, Ezgi needs to stay away from Mr. Wrong and she needs to take into consideration her friends' advice.
Ozgur is a handsome and wealthy guy who knows how women feel and behaves accordingly. Yet, he is a womanizer and has no intention for either a serious relationship or a marriage.
If Ezgi stays around him, he could easily attract her and eventually, make her disappointed. Therefore, Ezgi has to stay away from Mr. Wrong and to do her best for finding a prince charming. However, Ezgi and Ozgur come together and decide to benefit from each other.
According to their deal, Ozgur will be Ezgi's relationship coach and he will teach her how to attract men. Ezgi, meanwhile, will act as if she is the girlfriend of Ozgur so that Ozgur's mother would not make any pressure for marriage.
Mr. wrong (bay yanlis) tv series story is about two young persons with totally different characters, Ezgi who is tired of wrong relationships and Ozgur who is a womanizer. Will Ezgi find Mr. Perfect eventually with the advice given by Ozgur? Will Ozgur find a true love and get rid of his happy go lucky life? Is Ozgur really Mr. Wrong whom women need to avoid?
Mr. Wrong (Bay Yanlis) Tv Series Cast
Can Yaman as Ozgur Atasoy
Ozge Gurel as Ezgi Inal
Gurgen Oz as Levent Yazman
Fatma Toptas as Cansu Akman
Suat Sungur as Unal Yilmaz
Lale Basar as Sevim Atasoy
Cemre Gumeli as Deniz Koparan
Serkay Tutuncu as Ozan Dincer
Sarp Can Koroglu as Serdar Ozturk
Taygun Sungar as Soner Seckin
Feri Baycu Guler as Nevin Yilmaz
Ece Irtem as Gizem Sezer
Anil Celik as Emre Eren
Kimya Gokce Aytac as Irem Dogan
Deniz Ozerman as Fitnat Atasoy
External Links
Official Site: https://www.fox.com.tr/Bay-Yanlis/
English Wikipedia:
Imdb:
Social
Instagram: https://www.instagram.com/bayyanlisfox/
Twitter: https://twitter.com/bayyanlisfox_
Facebook: https://www.facebook.com/bayyanlisfox/
You Might Also Like
You Knock on My Door (Sen Cal Kapimi)
Full Moon (Dolunay)
Mr. Wrong (Bay Yanlis) Tv Series Trailer (with English Subtitle)
Mr. Wrong (Bay Yanlis) Tv Series Trailer (Eng Sub)