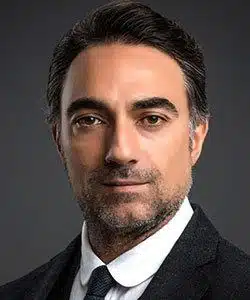 Profile
Name: Selim Bayraktar
Birthdate: June 17, 1975
Birthplace: Kirkuk, Iraq
Height: 175 cm
Eye Color: Brown
Hair Color: Black
Education: Hacettepe University State Conservatory Theatre (Hacettepe Universitesi Devlet Konservatuari Tiyatro Bolumu)
Spouse: Bihter Bayraktar (m. 2005-present)
Biography: Selim Bayraktar is a son of a Turkish father who went to Iraq for working at an oil company and a Turkmen mother who was living in Kirkuk, Iraq. He stayed in Kirkuk, Iraq until he was 12 years old and migrated to Turkey with his family. He started to be interested in theatre while he was going to high school. He worked in Diyarbakir State Theatre and Antalya State Theatre. He became very popular with his role Sumbul Agha in a popular Turkish drama Magnificent Century (Muhtesem Yuzyil).
Selim Bayraktar Tv Series / Movies
2006 – 2007 Bridge (Kopru) (as Erdal)
2009 – 2010 Beyond the Clouds (Bir Bulut Olsam) (as Mahmut Pasa)
2009 – A Step into the Darkness (Buyuk Oyun) (Movie)
2011 – 2014 Magnificent Century (Muhtesem Yuzyil) (as Sumbul Aga)
2014 – Love Resembles You (Ask Sana Benzer) (as Aykut) (Movie)
2014 – Red (Kirmizi) (as Gokhan) (Movie)
2015 – Night of the June (Gecenin Kralicesi) (as Hakan)
2015 – The Jungle (Orman) (as Omar) (Short Movie)
2016 – More (Daha) (Movie)
2016 – The Ghosts of Garip (Kanli Girdap) (as Ali) (Movie)
2016 – Vizer's Finger (Vezir Parmagi) (as Ekmelettin) (Movie)
2016 – Rosso Istanbul (Istanbul Kirmizisi) (Movie)
2017 – Cingoz Recai: Bir Efsanenin Donusu (as Adil) (Movie)
2017 – Visible Man (Gorunen Adam) (as Esref Serif)
2017 – Lodestar (Coban Yildizi) (as Zekkar Karakaya)
2017 – 2018 Stiletto Vendetta (Ufak Tefek Cinayetler) (as Edip)
2018 – Sevgili Komsum (as Cengiz) (Movie)
2018 – Aglama Anne (as Ali Osman)
2018 – Arada (as Resul) (Movie)
2019 – Ask Aglatir (as Cevdet / Hunkar Balaban)
2020 – Rise of Empires: Ottoman (as Candarli Halil Pasa)
2020 – Phoenix (Zumruduanka) (as Abbas Demirkan)
2021 – Vahsi Seyler (as Bora)
Social
Instagram: https://www.instagram.com/selimbyraktar/
Twitter: https://twitter.com/selimbyraktar
Facebook:
Sumbul Aga Smile
Selim Bayraktar Kitesurf
Selim Bayraktar Gallery