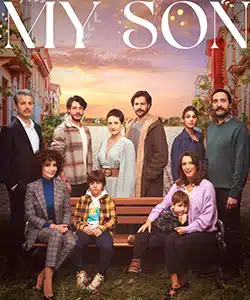 Details
Original Title: Oglum
English Title: My Son
Also Known As:
Genre: Drama
Episodes: 15 (each episode is 120 minutes)
Broadcast Network: Show Tv
Broadcast Period: February 9, 2022 – May 25, 2022
Production Company: Ay Yapim
Director: Gokcen Usta
Screen Writer: Hurer Ebeoglu, Sevgi Yilmaz
Filming Locations: Istanbul, Turkey
Synopsis
Efe is a 12 years-old boy who has some problems in his family. He does have a good communication with his parents. He spends most of his time by playing computer games in order to get away from his problems.
Efe lives in a big house together with his mother Zeynep (Songul Oden) and his father Tugrul (Feyyaz Duman). His mother is a teacher who works at the same school where Efe goes. His father is a businessperson who generally complains about his wife's way of child raising.

Due to the problems in his family, Efe starts to show a tendency to violence and absenteeism. One of these days, he argues with his school friends and run away from the school.
Efe wanders around at the streets and bumps into a small kid who seems to be lost.
Kaan is a 6-year old boy who comes from an ordinary family. He lives happily together with his mother Melike (Nihal Yalcin), his father Ilyas (Timur Acar), and his older sister. When her mother does not pick him up from the school on time, Kaan finds himself all alone wandering in the neighborhood.
Kaan and Efe play at the playground for a while and decide to go to the police station later on. The lives these two kids change all of a sudden on their way to the police station.
Efe comes to his house with fear and cannot speak with his parents what has happened. On the other hand, a dead body of Kaan is found in the forested land that is very close to Efe's house.
This tragedy turns everything down. The police comes to the school and wants to speak with Efe in order to understand what has happened.
Sedat (Serhat Teoman) is a successful police officer to takes this murder case. In this case, he works closely with Demet (Canan Erguder) who is a child psychiatry.
When Demet approaches Efe with tenderness and kindness, she gets the confession. Efe says that he has killed Kaan. This confession changes everything. Now, Efe's family including his mother Zeynep, his father Tugrul, his grandmother Canan (Nazan Kesal) and his uncle Bulut (Kubilay Aka) find themselves in a very difficult situation. Will they work in cooperation with the police to secure the justice? Will they prefer to protect Efe?
My Son (Oglum) tv series story is about a little boy who has confessed to kill another child. Will Efe explain everything in details and tell the truth? Will Zeynep prefer to protect her son or will she work in cooperation with the police in order to secure the justice? Will Demet and Sedat successfully solve this murder case?
My Son (Oglum) Tv Series Cast
Additional Cast Members
Ali Seckiner Alici as Huseyin
Mina Derman as Ceren Ozyurek
Kadriye Cetinkaya as Gulten
Abdurrahman Yunusoglu as Murtaza
Yagmur Damla Ayden as Merve
Cemre Yesilbursa as Esra
Firat Bozan as Zeynep
Ege Derin as Sertac
Emir Kaan Ozkan as Kaan Ozyurek
Pervin Bagdat as Melahat
Fahri Oztezcan as Nedim
Ozan Gozel as Orhan
Mutlu Guney as Hulusi
External Links
Official Site: Broadcast Network
English Wikipedia:
Imdb:
Social
Instagram: Official Instagram Account
Twitter: Official Twitter Account
Facebook:
Youtube Channel: Official Youtube Channel
You Might Also Like
House of Lies (Kagit Ev)
The Boy (Cocuk)
My Son (Oglum) Tv Series Trailer (with English Subtitle)
Oğlum - Teaser | English Subtitles
My Son (Oglum) Tv Series Trailer – 1 (with English Subtitle)