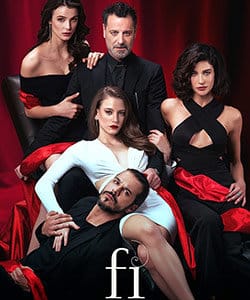 Details
Original Title: Fi
English Title: Phi
Also Known As:
Genre: Romance, Drama
Episodes: 22
Broadcast Network: Puhu Tv
Broadcast Period: March 31, 2017 – March 09, 2018
Production Company: Ay Yapim
Director: Mert Baykal
Screen Writer: Nukhet Bicakci
Filming Locations: Istanbul, Turkey
Synopsis
This Turkish drama is based on the popular trilogy of novels by Azra Kohen: Phi, Chi, Pi.
Can Manay (Ozan Guven) is a famous psychologist, television personality, and instructor at the university. He is a womanizer, spends each night with different woman but never falls in love. He thinks that he can control everyone he meets.
The perfect life of Can Manay turns upside down when he decides to move his house away from the city's chaos. While he is looking for a new house, Can Manay sees a young woman dancing in the garden near the house and starts to watch her unintentionally. Even though the house does not qualify his requirements, Can Manay buys the house so as to become close to this young dancer, Duru (Serenay Sarikaya).

Duru is a fourth year student at the Art School who has a happy life with her musician boyfriend, Deniz (Mehmet Gunsur). Deniz is also an instructor at the same school where Duru goes to. The life of this young couple changes dramatically after their new neighbor moves in and gets closer to them.
Can Manay becomes erratic as he falls in love with Duru and tries to do whatever he can in order to fall them apart. He starts to secretly watch Duru's house and shows up when she needs any help. He gradually puts his plan into action and makes Duru question her life with Deniz.
Meanwhile, a young journalist Ozge (Berrak Tuzunatac) discovers one of Can Manay's secrets. When she wants to learn the reason why Can Manay had spent 3 years in the mental hospital 21 years ago, she finds herself unemployed. But, she does not give up and tries to take her revenge by revealing this secret to all people.
In phi (fi) tv series story, you will explore what a man can do in order to find his love. Will Duru break up with Deniz as a result of Can Manay's schemes? Will Duru and Deniz learn about the true intention of Can Manay? Why Can Manay spent his 3 years in the mental hospital? What will happen to Can Manay when people learn the fact that their famous psychologist has actually had mental problems?
Phi (Fi) Tv Series Cast

External Links
Official Site: Broadcast Network
English Wikipedia:
Imdb:
You Might Also Like
Tide (Medcezir)
Crash (Carpisma)
Phi (Fi) Tv Series Trailer (with English Subtitle)