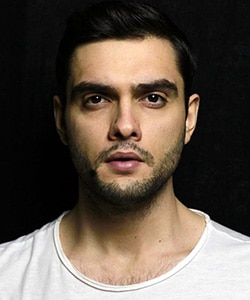 Profile
Name: Toprak Can Adiguzel
Birthdate: January 26, 1992
Birthplace: Izmir, Turkey
Height: 183 cm
Eye Color: Brown
Hair Color: Black
Education: Istanbul Aydin University Fine Arts School – Acting (Istanbul Aydin Universitesi Guzel Sanatlar Fakultesi Drama ve Oyunculuk)
Talent Agency: Gde Team Talent Management
Spouse:
Biography: Toprak Can Adiguzel was born in 26 January 1992 in Izmir. He started to be interested in music and theatre when he was going to high school. In 2012, he moved from Izmir to Istanbul in order to study at Fine Arts School of Istanbul Aydin University. After graduating from Istanbul Aydin university in 2017, he started to take part in a theatre play named My Name is Feuerbach (Benim Adim Feuerbach) of Aysa Production Theatre. While taking part in theatre plays, he started his acting career in television with his role at popular Turkish series Woman (Kadin).
Toprak Can Adiguzel Tv Series / Movies
Awards
Theatre Plays
2018 – Benim Adim Feuerbach
2019 – Yak Bunu
Social
Instagram: https://www.instagram.com/toprakcan.adiguzel/
Twitter: https://twitter.com/tprkcnadgzl
Facebook:
E-Mail:
Trivia
Body Type:
Skills:
Zodiac Sign: Aquarius
Blood Type:
Hobbies:
Weight: 79 kg
Toprak Can Adiguzel Gallery
Showreel