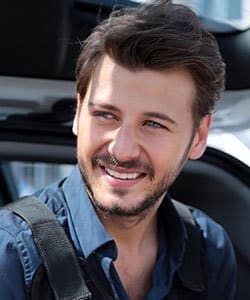 Profile
Name: Umit Ibrahim Kantarcilar
Birthdate: October 10, 1987
Birthplace: Antalya, Turkey
Height: 187 cm
Eye Color: Blue
Hair Color: Brown
Education: Maltepe University Theatre (Maltepe Universitesi Tiyatro Bolumu)
Spouse: Gamze Topuz (m. 2014 – 2016)
Child: Elis Naz Kantarcilar
Biography: Umut Ibrahim Kantarcilar started theatre with school theatre club. After that, he took part in Antalya Municipality Theatre. He won a prize with his theatre play (Midirfillik) in Antalya Municipality Theatre. He studied at Mujdat Gezen Conservatory and then he started to act at Ali Poyrazoglu Theatre. He also presented a game show named Daughters and Mothers (Kizlar ve Anneleri).
Umit Ibrahim Kantarcilar Tv Series / Movies
2006 – Life Song (Hayat Turkusu) (as Cengiz)
2006 – Two Families (Iki Aile) (as Can)
2010 – 2011 Little Secrets (Kucuk Sirlar) (as Erkan)
2010 – 2011 High From the Ground (Yerden Yuksek) (as Anil)
2010 – Pebble Stone (Cakil Taslari) (as Ekrem)
2012 – 2013 Dirty Seven (Pis Yedili) (as Ceyhun)
2012 – Fathers and Children (Babalar ve Evlatlar)
2015 – Angels of the City (Sehrin Melekleri) (as Gurkan Akad)
2016 – Stager (Kacin Kurasi) (as Aras)
2017 – 2018 Broken Wings (Kanatsiz Kuslar – Wingless Birds) (as Onur)
2019 – Beloved (Vuslat) (as Kerem Saltuk)
Social
Instagram: https://www.instagram.com/umitkantarcilar/
Twitter: https://twitter.com/umitkantarcilar
Facebook:
Mail: [email protected]
Manager: [email protected]
Gallery
Melis Tuzunguc & Umit Ibrahim Kantarcilar (Funny)
Melis Tuzunguc & Umit Ibrahim Kantarcilar (Funny)
Magazine Video
Umit Ibrahim Kantarcilar Turkish Actor
Poster Shooting
Umit Ibrahim Kantarcilar Actor