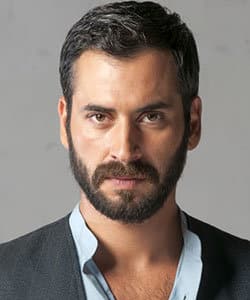 Profile
Name: Burak Yamanturk
Birthdate: December 23, 1983
Birthplace: Sivas, Turkey
Height: 176 cm
Eye Color: Brown
Hair Color: Black
Education: Istanbul State Opera and Ballet – Modern Dance (Istanbul Devlet Opera ve Balesi Bolumu Modern Danslar); Mimar Sinan University State Conservatory – Modern Dance (Mimar Sinan Universitesi Devlet Konservatuari Modern Dans Bolumu)
Talent Agency:
Spouse: Ozge Ozpirincci (m. 2021 – present)
Children: Mercan Yamanturk
Biography: Burak Yamanturk studied underwater technology and took diving lessons. However, he decided to change his career and studied modern dance at Mimar Sinan University. Burak Yamanturk made his debut with his role Kemal in Turkish drama Farewell (Veda). He is still the member of Istanbul Opera and Ballet Community.

Burak Yamanturk Tv Series / Movies
2010 – Mrs. Ayhan (Ayhan Hanim) (as Bahadir) (Movie)
2012 – Farewell (Veda) (as Kemal)
2013 – Bug (Bocek) (as Burak) (Movie)
2013 – 2014 Tatar Ramazan (as Elmas Mercan)
2014 – 2015 Life as It is (Hayat Yolunda) (as Dr. Selim Savas)
2014 – Forbidden (Yasak) (as Nejat)
2016 – Bitter Love (Aci Ask) (as Mehmet)
2017 – Unregistered (Kayitdisi) (as Arda)
2017 – Glass Mask (Icimdeki Firtina) (as Firat)
2018 – The Deep (Dip) (as Emre)
2019 – Dear History (Sevgili Gecmis) (as Kenan Soykan)
2019 – Iyi Yemek Oldurur (as Arthur) (Short Movie)
2020 – Either Freedom or Death (Ya Istiklal Ya Olum) (as Hayati)
2021 – Elbet Bir Gun (as Mehmet Kilicli)
2022 – Aslinda Ozgursun (as Erkan)
2022 – Allah Yazdiysa Bozsun (Movie)
2022 – As the Crow Flies (Kus Ucusu) (as Selim Kiran)
Social
Instagram: Official Instagram Account
Twitter:
Facebook:
E-Mail: Contact
Gallery
Burak Yamanturk (Ayna Kirildi)
Burak Yamanturk - Turkish Actor