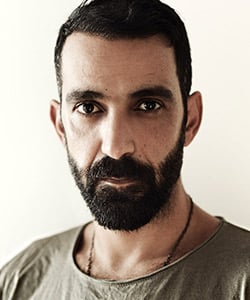 Profile
Name: Mehmet Bozdogan
Birthdate: June 4, 1977
Birthplace: Berlin, Germany
Height: 183 cm
Eye Color: Brown
Hair Color: Black
Education: Internationale Theater Werkstatt e.V. Berlin
Talent Agency:
Spouse:
Biography: Mehmet Bozdogan was born in 4 June 1977 in Berlin, Germany. He started his acting training in Germany and then continued in Turkey. He started his acting career in Turkey with a popular Turkish series As Time Goes By (Oyle Bir Gecer Zaman Ki). After then, he took part in various television projects including Dark Red (Koyu Kirmizi), Karadayi, and The Pit (Cukur).
Mehmet Bozdogan Tv Series / Movies
2004 – Wolffs Revier
2006 – Gsg9
2006 – JanJan (Movie)
2007 – 2008 Der Kriminalist
2009 – Die Soap Deiner Wahl
2009 – Method (Movie)
2009 – Kill Your Darling (Movie)
2009 – Grand Bazaar (Kapalicarsi)
2010 – As Times Goes By (Oyle Bir Gecer Zaman ki) (as Ekber)
2010 – Zeiten Andern Dich (Movie)
2010 – Schicksale
2012 – Zenne (Movie)
2012 – Cholera Street New World (Agir Roman Yeni Dunya) (as Haldun)
2012 – Dark Red (Koyu Kirmizi) (as Hasan)
2012 – Watchtower (Gozetleme Kulesi) (Movie)
2012 – 2015 Karadayi (as Berdan)
2014 – Sara Stein / Tod In Berlin
2014 – Drawers (Cekmeceler) (Movie)
2015 – Vergesst Mich Nicht (Movie)
2015 – Valley of Wolves Ambush (Kurtlar Vadisi Pusu)
2015 – HollywoodTurke (Movie)
2015 – Macho Man (Movie)
2015 – The Day My Destiny Is Written (Kaderimin Yazildigi Gun)
2017 – Sevda's Garden (Sevda'nin Bahcesi) (as Hamdi)
2017 – Payitaht Abdulhamid (as Mehmet Pasa)
2018 – The Pit (Cukur) (as Serdar)
2019 – Vurgun (as Rasih)
2019 – Dishonor (Leke) (as Birkan)
2020 – The Great Seljuks: Guardians of Justice (Uyanis: Buyuk Selcuklu) (as Taculmulk)
Awards
Theatre Plays
1996 – Ein Sommernachtstraum
1997 – Ali Baba ve Kirk Haramiler
1998 – Ayak Bacak Fabrikasi
1999 – Kalif Storch
2000 – Ferhad Und Shirin
2001 – Keciler, Kuzular ve Kurt
2002 – Roobin Hood
2003 – Die Möwe
2005 – Macbeth
2005 – Narr Und Nonne
2005 – The Shape Of Things
2006 – Cut And Go
2006 – Otobus / Bus
2014 – Schlachtfeld Erinnerung
Commercials
2003 – Akbank
2005 – E-Plus / Ay Yildiz
2007 – Hutchinson3 / Frauentarif
2010 – Ikea / Makeover
Social
Instagram: https://www.instagram.com/mehmet.bozdogan/
Twitter:
Facebook:
E-Mail:
Trivia
Body Type:
Skills:
Zodiac Sign: Gemini
Blood Type:
Hobbies:
Weight: 77 kg
Shoe Size: 44
Size: 48/50
Driving Licence: B (Car)
Languages: German and Turkish (Mother), English (Fluently)
Dialects: Berliners, East Anatolia, Balkan
Voice: Soprano
Sports: Box, Muai Thay, Stick Fighting (Asian), Soccer
Mehmet Bozdogan Gallery
Mehmet Bozdogan Showreel
Mehmet Bozdogan - Showreel