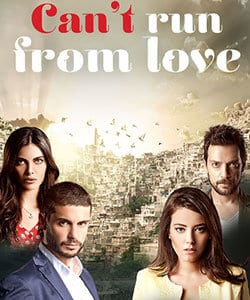 Details
Original Title: Asktan Kacilmaz
English Title: Can't Run From Love
Also Known As:
Genre: Drama, Romance, Crime
Episodes: 11
Broadcast Network: Star TV
Broadcast Period: September 14, 2014 – November 18, 2014
Production Company: Erler Film
Director: Metin Balekoglu
Screen Writer: Mahinur Ergun
Synopsis
Yasemin (Pelin Akil) is a young prosecutor living in Istanbul with her family. She is so ambitious that she tries to do her best to change the world. She has been dating with Ali (Cagdas Onur Ozturk) who is a police superintendent of narcotic branch in Istanbul.
Yasemin and Ali work together in order to catch the gang leaders who engage in illegal drug travel. They have been working for a long time to catch the culprits and reach the leaders of this gang. However, no matter how hard they try, they cannot become successful.
Having a break from this tight schedule, Yasemin and Ali eventually get engaged and decide to get married soon. However, the day after their engagement, Yasemin finds out Ali's affair with another woman. She cannot forgive her fiancée's betrayal and decides to move away from Istanbul for a while. She immediately requests a transfer from her workplace to another city for a temporary duty so that she would be far away from Ali.

Since Yasemin wants to be transferred to another city as soon as possible, she has no choice but to go to Mardin (the city in the Southeastern part of Turkey). Mardin is the only city where there is a vacancy at that moment but it is an unpopular one especially for a young unmarried woman. Despite her parents' disapproval, Yasemin decides to go to Mardin as a prosecutor no matter what.
On the other hand, Berzan (Berk Oktay) is a young and handsome guy who comes from Mardin but lives in London, England. After graduating from university in London, Berzan starts to work there apart from his parents.
Even though Berzan comes from a conservative family, he is so different from an ordinary man in the Southeastern part of Turkey. Maybe due to his education in abroad, he is so modern and not devoted to traditions or customs. He does not want to be involved in family business and wants to stand on his own legs without his parents' support.
Berzan's family, on the other hand, is the richest and most powerful family in Mardin. Berzan's father Iskender Agha (Macit Sonkan) and his uncle are engaged in illegal drug travel and they are criminals.
The destinies of Berzan and Yasemin intersect out of pure coincidence. These two young persons bump into each other on the flight to Mardin. They fall in love without knowing their family backgrounds. However, they find themselves on the opposite sides of a battle. The story becomes more complicated when Ali also comes to Mardin in order to win his ex-fiancé's heart.
In can't run from love (asktan kacilmaz) tv series story, you will watch the story of Berzan and Yasemin who fall in love with each other even though they come from different family backgrounds. Will Yasemin continue to work as a prosecutor in Mardin that is a lawless place? Will Berzan manage to be far away from illegal family business? Will Berzan and Yasemin manage to be happy despite all the obstacles in their ways?
Can't Run From Love (Asktan Kacilmaz) Tv Series Cast
Pelin Akil as Yasemin
Berk Oktay as Berzan
Cagdas Onur Ozturk as Ali
Ceren Hindistan as Nazli
Bilal Yoruk as Berat
Nilay Cafer as Dicle
Macit Sonkan as Iskender Agha
Umut Karadag
Ayten Soykok
Adnan Koc
Seray Gozler
External Links
Official Site: https://www.startv.com.tr/video/arsiv/dizi/asktan-kacilmaz
English Wikipedia:
Imdb: http://www.imdb.com/title/tt4518946/
You Might Also Like
Love is a Dream (Ask Bir Hayal)
Asktan Kacilmaz Tv Series Gallery
Can't Run From Love Trailer (English Subtitles)

Can't Run From Love (Asktan Kacilmaz) Trailer (Eng Sub)