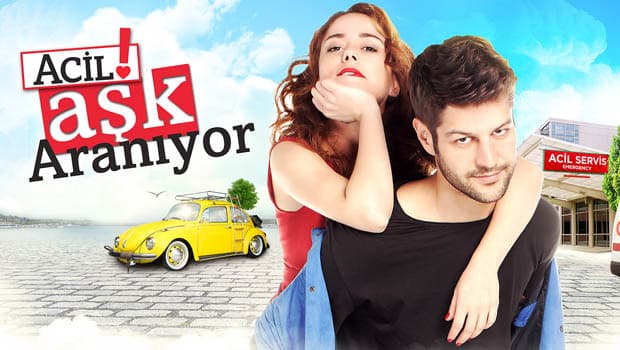 Details
Original Title: Acil Ask Araniyor
English Title: Emergency Love
Also Known As:
Genre: Comedy, Romance
Episodes: 24
Broadcast Network: Show Tv
Broadcast Period:  March 15, 2015 – November 28, 2015
Production Company: MED Yapim
Director: Baris Kirimselioglu
Screen Writer: Gokhan Horzum
Filming Locations: Istanbul, Turkey
Synopsis
Sinan (Serhat Teoman) is a successful young doctor who is working in the emergency room of the hospital. He lives alone and enjoys his quiet and event-free life. One day in the early morning, he wakes up with a noise of a young girl who tries to move in to her new apartment. That girl also accidentally crashes Sinan's car. Sinan thinks that this is one of the awful days in his life and never wants to see that girl again.
When Sinan goes to the hospital, he learns that he will have a new assistant doctor whom he will closely work together. Out of pure coincidence, Sinan learns that the girl who has ruined his morning will be his new assistant doctor. That girl is named as Nisan (Duygu Yetis) who is so cute but at the same time a little bit clumsy.  Now, Sinan and Nisan have to work at the same hospital in the emergency room together. The story becomes more complicated when Sinan's elder sister Ayla (Rojda Demirer) starts to work in the same hospital together with her little brother.

Meanwhile, Ayla starts to live in his brother's house until she finds a new apartment for herself. Nisan, on the other hand, becomes Sinan's upstairs neighbor. Now, Sinan has to adjust his new life because he never finds calmness in his life anymore.
In emergency love (acil ask araniyor) tv series story, you will watch the funny life of Sinan and Nisan who have totally different characters end up working together in the same hospital. Will Nisan adjust her new life in Istanbul? Will Sinan and Nisan get along well? Will Nisan escape from her past?
Emergency Love (Acil Ask Araniyor) Tv Series Cast
External Links
Imdb:
Wikipedia:
Official Site: Med Yapim: Acil Ask Araniyor
Youtube Channel: @AcilAskAraniyor
You Might Also Like:
Cherry Season (Kiraz Mevsimi)