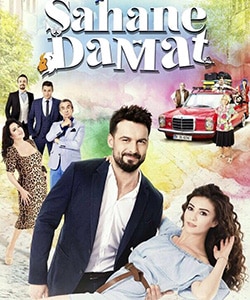 Details
Original Title: Sahane Damat
English Title: Perfect Groom
Also Known As:
Genre: Romance, Comedy
Episodes: 8
Broadcast Network: Star Tv
Broadcast Period: 21 June 2016 – 23 August 2016
Production Company: Sinegraf
Director: Rasit Celikezer
Screen Writer: Ayse Ferda Yilmaz, Nehir Erdem
Filming Locations: Istanbul, Turkey
Synopsis
Melike (Burcu Ozberk) is a young and clumsy girl who is the daughter of a Turkish family living in Germany. Melike moves into Istanbul in order to fulfill her dreams of becoming a successful journalist. She lives in Istanbul with difficulty and works at the news agency.
Melike has many lies. She earns just a little more from a minimum wage and has difficulty even for paying her rent. But, her family thinks that she does not have any financial difficulty.
Melike tries her best to become a successful journalist but she is far away from her dreams. She just writes horoscope news on magazine section of the newspaper. But, her family thinks that she has won a best journalist award in the country. On top of that, Melike has a one-sided love towards a famous plastic surgeon Mehmet (Ali Ersan Duru) who is dating with Melike's boss Ilknur (Leyla Goksun).

Mehmet does not even know Melike. But, Melike's family thinks that their daughter Melike and famous plastic surgeon Mehmet have been dating for a while and are engaged recently.
Melike's desperate life turns upside down when she gets a gossip news that could surprise everybody. She watches on tv that a popular Turkish singer Perihan (Nukhet Duru) is about to commit suicide. Perihan threatens everybody to fall from her house with the intention to die by suicide if her secret lover does not reveal his identity.
Perihan's secret lover is in fact Hayati (Erhan Yazicioglu), who is a married guy and the uncle of surgeon Mehmet. When Perihan is determined to disclose the identity of her lover, Mehmet intervenes and tries to persuade her.
Mehmet knows that he could lose his flexibility in the hospital if his uncle's wife learns the secret love affair of her husband and appoints her own son as a head of the hospital where Mehmet works.
Mehmet does not want to have this change in the hospital, thus tries his best to save his uncle. However, the inclusion of Melike complicates everything.
Melike thinks that she eventually gets the opportunity to show her potential as a journalist. She goes to the incident scene with the hope of persuading Perihan and getting a chance of doing an interview with her.
If Melike learns the secret lover of Perihan, she could earn the appreciation of her supervisors in the workplace. However, nothing happens as expected and Melike causes the fall of Perihan by mistake. Out of pure coincidence, she learns the identity of the secret lover of Perihan.
The arrival of Melike's family to Istanbul makes things complicated. Melike accepts to stay silent on the condition that Mehmet would behave as if her fiance. Mehmet has nothing to do but to act as a perfect groom in front of Melike's family.
Perfect Groom (Sahane Damat) tv series story is about a beautiful and clumsy girl Melike who persuades a popular plastic surgery Mehmet to act as if they are engaged. Will Mehmet accept to act as if he is engaged with Melike? Will Melike manage to win Mehmet's heart? Will Melike fulfill her dream of becoming a popular journalist?
Perfect Groom (Sahane Damat) Tv Series Cast
External Links
Official Site: https://www.startv.com.tr/video/arsiv/dizi/sahane-damat
English Wikipedia:
Imdb:
Youtube Channel: https://www.youtube.com/channel/UChz9YBGflFbhkCFMF_luVzQ
You Might Also Like
You Knock on My Door (Sen Cal Kapimi)
Love Trap (Afili Ask)
Perfect Groom (Sahane Damat) Tv Series Trailer – 1
Şahane Damat 1. Bölüm Fragman
Perfect Groom (Sahane Damat) Turkish Series Trailer – 2
Şahane Damat 1. Bölüm 2. Fragman
Perfect Groom (Sahane Damat) Turkish Drama Trailer – 3
Şahane Damat 1. Bölüm 3. Fragman