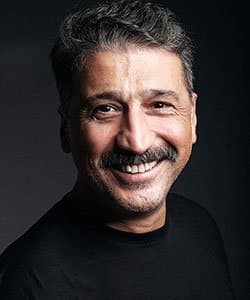 Profile
Name: Cem Davran
Birthdate: March 3, 1964
Birthplace: Istanbul, Turkey
Height: 177 cm
Eye Color: Brown
Hair Color: Black
Education: Yildiz Technic University Electricity Engineering (Yildiz Teknik Universitesi Elektrik Muhendisligi)
Talent Agency:
Spouse: Hilal Davran (m. 1990 – present)
Children: Ali Davran, Hurcan Davran
Biography: Cem Davran was born in March 3, 1964 in Kasimpasa, Istanbul. He is the son of theatre actor Mehmet Davran. Cem Davran started his acting life in 1976 with Turkbank Children Theatre. In 1977, he started to work at Istanbul City Theatre as a child actor and promoted as a professional actor in 1980. Cem Davran also became board member of Istanbul City Theatre for 3 years. He also worked as a guest actor at Dormen Theatre for 4 years and Theatre Istanbul for 3 years. Cem Davran gave acting lessons in various theatres.
Cem Davran Tv Series / Movies
1978 – Tasi Topragi Altin Sehir (as Tahir) (Movie)
1979 – Yusuf Ile Kenan (as Yusuf) (Movie)
1986 – Asilacak Kadin (Movie)
1991 – Kurt Kanunu (Movie)
1993 – Tatli Betus (as Orhun)
1993 – Tersine Dunya (as Zekerya) (Movie)
1994 – Cilgin Sonbahar (Movie)
1996 – Sasifelek Cikmazi (as Hasan)
1997 – Ruhsar (as Mazhar Mahmutoglu)
1999 – Kahpe Bizans (as Yetis) (Movie)
2000 – Balalaika (Balalayka) (as Hasan) (Movie)
2001 – Vay Anam Vay (as Cem)
2002 – Ask Meydan Savasi (as Riza)
2002 – Call Me Brother (Bana Abi De) (as Selo)
2003 – Who is Boss (Patron Kim) (as Cem)
2003 – Yuvam Yikilmasin (as Demir)
2009 – European Side (Avrupa Yakasi) (as Altan)
2004 – You are in Trouble if You Have a Child (Cocugun Var Derdin Var) (as Omer Gencer)
2005 – Ilk Goz Agrisi (as Askin)
2006 – Deli Dolu (as Oguz)
2007 – European (Avrupali) (as Avrupali) (Movie)
2007 – Fesupanallah (as Gulum Arif)
2008 – Life is Beautiful (Hayat Guzeldir) (as Omer Bahtiyar)
2009 – Innocent Women (Masum Kadinlar) (as Yigit) (Movie)
2009 – Angels and Gamblers (Melekler ve Kumarbazlar) (as Sehsuvar) (Movie)
2011 – The Path of The Faithful (Bir Ses Boler Geceyi) (as Suha) (Movie)
2011 – Izmir Gangs (Izmir Cetesi) (as Ahmet)
2013 – My Father Failed the Class (Babam Sinifta Kaldi) (as Erman)
2013 – Our School (Bizim Okul) (as Altan)
2014 – Yedikule Hayat Yokusu (as Cemal Yavuzer)
2015 – And The Circus Leaves Town (Ve Panayir Koyden Gider) (Movie)
2017 – 7Faces (7Yuz) (as Aytac)
2017 – Niyazi Bey
2018 – 8th Day (8. Gun) (as Aziz Boztepe)
2018 – My Father's Bones (Babamin Kemikleri) (as Omer) (Movie)
2019 – Sisters (Kardes Cocuklari) (as Adnan Harmanci)
2019 – Karakomik Filmler: 2 Arada (Movie)
2020 – Karakomik Filmler: Deli (Movie)
2020 – Interrupted (Yarim Kalan Asklar) (as Nejat Boyluca)
2021 – Recipe of Love (Askin Tarifi) (as Hazim Soyluer)
2021 – Goc Mevsimi (Movie)
Awards
2001 – 9. Magazine Journalists Association Awards (9. Magazin Gazetecileri Dernegi Odulleri) – Best Actor (Balalaika) – En Iyi Erkek Oyuncu (Balalayka)
Theatre Plays
1983 – Figaro'nun Dugunu
1983 – Macbeth
1958 – Askerligim
1986 – 1793 Victor Hugo
1990 – Uc Kiz Kardes
1990 – Oduller Kimin
1991 – Cilgin Sonbahar
1992 – Tartuf
1993 – Teope
1996 – Yeni Bastan
1997 – Ahududu
2000 – Beyefendi
2010 – Alevli Gunler
2011 – Dogum Gunu Partisi
2012 – Bezirgan (Tartuffe)
Social
Instagram: https://www.instagram.com/cemdavran/
Twitter: https://twitter.com/cdavran
Facebook:
E-Mail:
Cem Davran Gallery