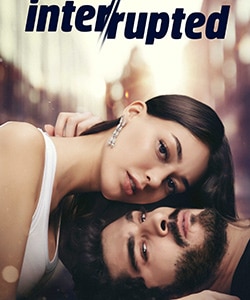 Details
Original Title: Yarim Kalan Asklar
English Title: Interrupted
Also Known As: Unfinished Love Circle
Genre: Mistery, Romance
Episodes: 8
Broadcast Network: Blu TV
Broadcast Period: 10 September 2020 – 29 October 2020
Production Company: Tims Production
Director: Umur Turagay
Screen Writer: Ethem Ozisik; Hakan Bonomo; Ercan Ugur
Filming Locations: Istanbul, Turkey
Synopsis
Ozan (Tolga Saritas) is an idealist journalist who seeks for truth and justice for any occasion. He is in love with Elif (Dilan Cicek Deniz) who is a journalist in the same company like himself.
Ozan starts to investigate a mysterious case where a group of people go blind after showing same symptoms. All these people hear supernatural voices just before going blind. Ozan wants to reveal the reasons behind this case and is about to meet a chemistry professor. However, he dies all of a sudden after being hit by a car.
Out of pure coincidence, Ozan is reincarnated in a new body. He is informed that he has been given a second chance in order to finish his unfinished work. While doing so, Ozan is not allowed to tell his true identity to anybody, even to his fiancée and family.

Ozan finds himself in the body of Kadir (Burak Deniz). Kadir is a police officer at the criminal investigation department. He is a kind of loser who has a drug, alcohol, and gambling problem. He is divorced and has a daughter. Kadir is neither a good father nor a good police officer.
Ozan has nothing to do but to behave as if he is Kadir. He immediately goes to the funeral that is organized for himself and says that he is Ozan's high school friend. After then he goes to the criminal investigation department and gets surprised when he learns the assigned case for his work team.
The criminal investigation department now starts to investigate the death of journalist Ozan. They try to find whether it is a traffic accident or willful murder.
Kadir/Ozan becomes willing to investigate this case voluntarily. He goes to his own workplace and meets Elif.
Kadir and Elif understand that Ozan is murdered. In order to find the culprits behind this suspicious traffic accident, they start to act together. They realize that Ozan is killed due to the fact that he is investigating the case of blind people.
The story becomes more complicated when Kadir/Ozan finds out a video footage that shows the face of the culprit responsible for the car accident. The video footage clearly shows the face of the person who crashes into Ozan with car intentionally. That person is surprisingly Kadir itself.
Interrupted (Yarim Kalan Asklar – Unfinished Love Circle) tv series story is about an idealist journalist Ozan who is murdered while investigating a mysterious case of blind people. Kadir crash into Ozan and kills him? What happens to the money that Kadir gets after killing Ozan? Will Elif manage to solve the case of blind people? Will Ozan eventually reveal that he is reincarnated in a body of Kadir? Will Ozan becomes successful at his second chance and finish his unfinished work? Will Elif recognize the similarities between Ozan and Kadir?
Interrupted (Yarim Kalan Asklar) Tv Series Cast
External Links
Official Site: https://www.blutv.com/diziler/yerli/yarim-kalan-asklar
English Wikipedia:
Imdb:
Social
Instagram: https://www.instagram.com/ykadizi/
Twitter: https://twitter.com/ykadizi
Facebook: https://www.facebook.com/ykadizi
You Might Also Like
Alef
Interrupted (Yarim Kalan Asklar – Unfinished Love Circle) Tv Series Trailer (with English Subtitle)
Interrupted (Yarim Kalan Asklar - Unfinished Love Circle) Tv Series Trailer (Eng Sub)