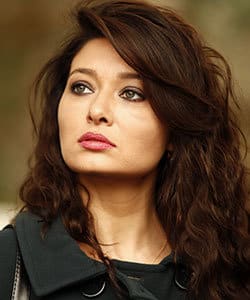 Profile
Name: Nurgul Yesilcay
Birthdate: March 26, 1976
Birthplace: Afyonkarahisar, Turkey
Height: 1.65 m
Eye Color: Green
Hair Color: Black
Education: Eskisehir Anatolian University – Theatre (Eskisehir Anadolu Universitesi Tiyatro Bolumu)
Talent Agency: Icon Talent Management
Spouse: Cem Ozer (m. 26 October 2004 – 24 December 2010)
Biography: Nurgul Yesilcay was born in 26 March 1976 in Afyonkarahisar. She went to primary and secondary school in Izmir. While she was studying at Eskisehir Anatolian University, she started to take part in popular Turkish drama Second Spring (Ikinci Bahar). She was shown as a succession of famous Turkish actress Turkan Soray. After then, Nurgul Yesilcay starred at very popular Turkish drama Vine Mansion (Asmali Konak) together with Ozcan Deniz. While she was starring at Angel Island (Melekler Adasi), she started to date with her role mate Cem Ozer and got married in 26 October 2004. She gave birth to her son Osman Nejat in 22 May 2005. Nurgul Yesilcay took part in various Turkish projects.

Nurgul Yesilcay Tv Series / Movies
1998 – 2001 Second Spring (Ikinci Bahar) (as Gulsum Percons Meric)
2001 – Ninety-Sixty-Ninety (90-60-90) (as Deniz)
2001 – The Waterfall (Sellale) (as Nergis) (Movie)
2002 – 2003 Vine Mansion (Asmali Konak) (as Bahar Karadag)
2002 – Runaway Mummy (Mumya Firarda) (as Fatima) (Movie)
2002 – Reyting Hamdi (as Nurgul)
2003 – Vine Mansion – Hayat (Asmali Konak – Hayat) (as Bahar Karadag) (Movie)
2004 – Istanbul Tales (Anlat Istanbul) (as Saliha) (Movie)
2004 – Borrowed Bride (Egreti Gelin) (as Kostak Emine) (Movie)
2004 – Angel Island (Melekler Adasi) (as Serbet / Ayse)
2005 – Hope & Faith (Belali Baldiz) (as Arzu)
2006 – 2007 Ezo Bride (Ezo Gelin) (as Ezo Gundogdu)
2007 – Adam and the Devil (Adem'in Trenleri) (as Hacer) (Movie)
2007 – The Edge of Heaven (Yasamin Kiyisinda) (as Ayten Ozturk) (Movie)
2008 – Consciense (Vicdan) (as Aydanur) (Movie)
2009 – 7 Husbands for Hurmuz (7 Kocali Hurmuz) (as Hurmuz) (Movie)
2010 – 2011 Love and Punishment (Ask ve Ceza) (as Yasemin)
2010 – The Plane Tree (Cinar Agaci) (as Sonay) (Movie)
2011 – Sensiz Olmaz (as Feryal)
2012 – Sultan (as Sultan)
2013 – Love is Red (Ask Kirmizi) (as Nazligul) (Movie)
2013 – Baby Work (Bebek Isi) (as Candan)
2013 – Robbery on the Champs Elysees (as Nadya) (Movie)
2014 – Galip Dervis (as guest actress)
2014 – Murder (Cinayet) (as Zehra Kaya)
2014 – Night (Gece) (as Susen) (Movie)
2014 – 2016 Broken Pieces (Paramparca) (as Gulseren Gulpinar)
2016 – Magnificent Century Kosem (Muhtesem Yuzyil: Kosem) (as Kosem Sultan)
2016 – Second Chance (Ikinci Sans) (as Yasemin) (Movie)
2017 – Guzel Cin (as Dilaram) (Movie)
2018 – 2019 Gulperi (as Gulperi Cetin)
2020 – 2021 Kefaret (as Zeynep)
2021 – Vahsi Seyler (as Sule)
2022 – Kim Bu Aile? (as Menekse) (Movie)
2022 – Until My Last Breath (Son Nefesime Kadar) (as Mihri Ozbayden)
2022 – Mahalleden Arkadaslar (as Ilknur) (Movie)
2023 – Farewell Letter (Veda Mektubu) (as Alanur Yildiz)
Awards
2001 – 9. Magazine Journalist Association Awards (9. Magazin Gazetecileri Dernegi Odulleri) – Promising Young Actress (The Waterfall) – Umut Veren Genc Kadin Oyuncu (Sellale)
2002 – 10. Magazine Journalist Association Awards (10. Magazin Gazetecileri Dernegi Odulleri) – Best Actress (Runaway Mummy) – En Iyi Kadin Oyuncu (Mumya Firarda)
2005 – 12. Internation Golden Cocoon Film Festival (12. Uluslararasi Altin Koza Film Festivali) – Best Actress (Borrowed Bride) – En Iyi Kadin Oyuncu (Egreti Gelin)
2007 – 14. CASOD Best Actors/Actress Awards (14. Cagdas Sinema Oyunculari Dernegi CASOD "En Iyi Oyuncu" Odulleri) – Best Actress (Adam and the Devil) – En Iyi Kadin Oyuncu (Adem'in Trenleri)
2008 – 13. Sadri Alisik Awards (13. Sadri Alisik Odulleri) – Best Actress (Adam and the Devil) – En Iyi Kadin Oyuncu (Adem'in Trenleri)
2008 – 45. Antalya Film Festival (45. Antalya Film Senligi) – Best Actress (Consciense) – En Iyi Kadin Oyuncu (Vicdan)
Theatre Plays
2002 – Ask Gibi
2006 – Sen Olmasaydin
2021 – Bir Barda Bir Gece
Social
Instagram: Instagram – nurgulyesilcayy
Twitter: Twitter – @nrglyslcy
Facebook: Facebook – nrglyslcy
Tiktok: Tiktok – @nurgulyesilcayy
Youtube Channel: Youtube – @nrglyslcy
E-Mail: Contact
Trivia
Body Type:
Skills:
Star Sign:
Blood Type:
Hobbies:
Magazine Cover Shooting Backstage
Nurgül Yeşilçay | BeStyle Magazine 2019 Nisan Kapak
Shooting Backstage
Nurgul Yesilcay - Turkish Actress