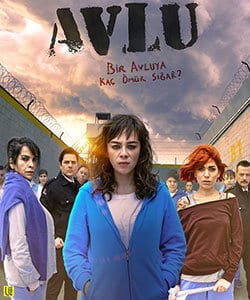 Details
Original Title: Avlu
English Title: The Yard
Also Known As: Prison Yard
Genre: Action, Drama
Episodes: 44
Broadcast Network: Star TV
Broadcast Period: March 29, 2018 – May 30, 2019
Production Company: Limon Film
Director: Yuksel Aksu
Screen Writer: Ahmet Yurdakul
Filming Locations: Istanbul, Turkey
Synopsis
Deniz (Demet Evgar) is a beautiful and attractive middle aged woman who has been exposed to domestic violence for a long time. Her husband Hakan (Teoman Kumbaracibasi) uses alcohol and accuses his wife for preventing him to become a successful musician. Even though they have a wealthy life, Deniz does not have happiness and peace at home. She tries to be strong as much as possible and endure this violence for the sake of her only daughter Ecem (Eslem Akar).
One day, during the fight, Ecem shoots her father while she is trying to protect her mother. Deniz does not want to let her daughter get a penalty and ruin her future. For this reason, she hides the truth and takes all the blame.

Deniz is charged with the attempted murder of her husband and sent to prison. She leaves her wealthy life behind and is separated from her lovely daughter. She needs to learn how to survive in this new world that is unfamiliar to her. She is scared and finds herself in the middle of prisoners and prison officers.
There are two groups in the prison and each of these groups wants to hold the power. Azra (Ceren Moray) and Kudret (Nursel Kose) are the leaders of these two groups. Each prisoner chooses her side and works under the command of these groups.
Deniz wants to get along with all prisoners and prison officers until the lawsuit. She does not want to have any problem until that day. But she finds herself in the middle of the struggle between these two groups. She encounters with violence, brutality, and injustice. Now she has to make her choice: the side of Azra, the side of Kudret, or the side of prison officers. Or Deniz has to make her own order and her own laws!
In The Yard (Avlu) tv series story, you will watch Deniz's arrival to the prison and her transition from a scared housewife to an influential prisoner. Will Deniz get used to her life in prison? Will Deniz become the member of Azra's group or that of Kudret's group? How long does Deniz need to stay in this prison? Will Deniz manage to protect her daughter outside the prison?
The Yard (Avlu) Tv Series Cast
Demet Evgar as Deniz Demir
Ceren Moray as Azra Kaya
Nursel Kose as Kudret Ozturk
Kenan Ece as Murat Unal
Teoman Kumbaracibasi as Hakan Demir
Ruckan Caliskur as Nilgun Demir
Sebnem Donmez as Nihal Unal
Cagdas Onur Ozturk as Oktay Boran
Deniz Barut as Melis Ersoy
Onuryay Evrentan Atasalihi as Ozlem Balaban
Eslem Akar as Ecem Demir
Seyla Halis as Jale Sahin
Ayca Damgaci as Hasret Sengul
Denizcan Aktas as Alp Ozturk
Tugrul Tulek as Sinan
Characters
Deniz: She is a beautiful and attractive woman. While she is going to university, she meets a young musician Hakan and gets married in a short time. After giving birth to her daughter, she starts to endure domestic violence.
Azra: She has an alcoholic mother. Due to her mother's problem, her father leaves them behind. Azra is one of the powerful prisoners in prison.
Kudret: While she is very young, she loses her father and turns the border of becoming a street walker. With her own effort, she builds her own crime gang. She is the powerful prisoner in prison. She is a very clever and strategic woman. She speaks too little but uses strong language that can hurt people easily.
External Links
Official Site: https://www.startv.com.tr/dizi/avlu
Official Site 2: http://www.limonproduction.com.tr/avlu/
Instagram: https://www.instagram.com/avludizi/
You Might Also Like
Behind Bars (Parmakliklar Ardinda)
The Yard (Avlu) Tv Series Gallery (Photos from limon production)
The Yard (Avlu) Turkish Series Trailer – 1 (with English Subtitle)
Prison Yard (Avlu) Tv Series Trailer - 1
The Yard (Avlu) Turkish Drama Trailer – 2 (with English Subtitle)
Prison Yard (Avlu) Tv Series Trailer - 2
The Yard (Avlu) Tv Series Trailer – 3 (with English Subtitles)
Prison Yard (Avlu) Tv Series Trailer - 3