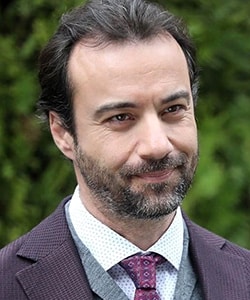 Profile
Name: Devrim Nas
Birthdate: January 10, 1972
Birthplace: Istanbul, Turkey
Height: 191 cm
Eye Color: Hazel
Hair Color: Black
Education: Mimar Sinan University State Conservatory – Theatre (Mimar Sinan Universitesi Devlet Konservatuvari Tiyatro Bolumu)
Talent Agency: Art Istanbul Management
Spouse:
Biography: Devrim Nas was born in 10 January 1972. He graduated from Mimar Sinan University and got his master's degree from the same university. He is one of the founders of Theatre Ti and Theatre Pera. Devrim Nas also works as a lecturer for theatre at Pera Fine Arts School.
Devrim Nas Tv Series / Movies
1994 – Summer House (Yaz Evi)
1995 – Our Family (Bizim Aile) (as Kaya)
1995 – Osman Amcanin Elleri
1996 – Cafe Casablanca
1997 – Ruhsar
1998 – Leopard's Tail (Leoparin Kuyrugu) (as Vural) (Movie)
1998 – Second Spring (Ikinci Bahar) (as Murat)
1999 – Screcrow of the Night (Gecenin Korkulugu) (Movie)
2000 – Young Man (Delikanli)
2002 – Zeybek Atesi (as Levent)
2004 – Angels' Island (Melekler Adasi) (as Hasan)
2006 – Fog and Night (Sis ve Gece) (as Sinan) (Movie)
2006 – Horror House (Kabuslar Evi: Gece Gelen Arkadaslar) (as Ozgur) (Movie)
2007 – Doctors (Doktorlar) (as Arslan Ibrahimoglu)
2007 – Blue Eyed Giant (Mavi Gozlu Dev) (Movie)
2008 – Ece (as Omer)
2009 – Makber (as Hazar Aladag)
2011 – Police Station (Karakol) (as Omer Cihangir)
2019 – Wounded Love (Vatanim Sensin) (as Stefanos)
2020 – New Life (Yeni Hayat) (as Ozgur Haseki)
Awards
Social
Instagram: https://www.instagram.com/devrimnasofficial/
Twitter:
Facebook:
E-Mail:
Trivia
Body Type:
Skills:
Star Sign: Capricorn
Blood Type:
Hobbies:
Weight: 83 kg
Devrim Nas Gallery