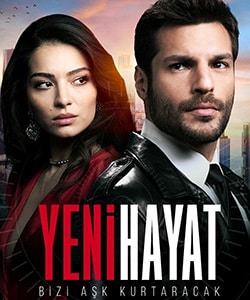 Details
Original Title: Yeni Hayat
English Title: New Life
Also Known As:
Genre: Romance, Action
Episodes: 9
Broadcast Network: Kanal D
Broadcast Period: 3 September 2020 – 29 October 2020
Production Company: OJO Pictures
Director: Basak Soysal, Cem Ozuduru
Screen Writer: Elif Usman, Serdar Soydan, Deniz Buyukkirli
Filming Locations: Istanbul, Turkey
Synopsis
Adem (Serkan Cayoglu) is A Special Forces soldier who is very successful at his work. He loves his job and is used to spend his time in different locations of Turkey apart from his family. Unfortunately, Adem gets seriously injured while he wants to protect his friend when they are on duty. Hence, he has nothing to do but to leave army and start a new life.
After being discharged from Special Forces, Adem starts to look for a new job in Istanbul. He is married with Nevin (Nilperi Sahinkaya) and has a happy cozy life together with his lovely daughter.
Adem does not have big expectations. All he wants is to support his family in a decent way and start his own business about security guardianship. Even though Adem applies for different job vacancies, unfortunately, he cannot find a job just because he, as an retired maroon beret, is considered as overqualified.

When Adem is about to lose all his hope and is tired of job interviews, he finds a new job out of pure coincidence. His friend Bekir (Aziz Caner Inan), who works as a security guard for a wealthy businessman, make an offer for Adem to work as a bodyguard. If he accepts the offer, Adem would be able to earn almost two times more than his salary at Special Forces.
Adem accepts to work as a bodyguard of Yasemin (Melisa Asli Pamuk) who is a beautiful and young wife of wealthy businessman Timur (Tayanc Ayaydin). Yasemin is the second wife of Timur.
Yasemin lives in a big mansion together with her husband and her teenage step-daughter Gokce (Ipek Filiz Yazici). She spends her time for charity activities and is interested in raising funds to help people and children in need.
When Timur is threatened by an unknown person, he decides to protect his wife via hiring a bodyguard. He does not know his enemy who threatens to kill Yasemin if 10 million dollars is not given.
Timur takes these threats seriously because it is similar to the case where his ex-wife was killed years ago.
Years ago, Timur got a couple of threat letters and was asked for a ransom in order to save his family. Instead of paying for a ransom, he resorted to the police to find the culprits. However, his wife was kidnapped and has never been seen afterwards.
In order not to experience the same thing, Timur tries to do his best to protect his family. This time, he cannot trust the police so, he needs to find his own way to protect his family. Therefore, he hires a qualified bodyguard for his wife Yasemin and puts any effort to find the real culprits behind these threat letters.
On the other hand, Yasemin is not pleased to be followed by a guy all the time. She refuses to have a bodyguard but cannot persuade her husband. Thus, she decides to do her best to make Adem leave the job by himself. However, she does not know that Adem is a strong and determined guy who never gives up so easily.
In order to discourage Adem and put him into trouble, Yasemin makes a plan to be attacked by purse-snatchers. However, her plan fails when Adem catches the culprits and understands that this is all a part of a scheme. After then, Yasemin understands that Adem is so qualified to be discouraged by these types of easy schemes yet she continues to do her best to send him away.
Yasemin has nothing to do but to keep Adem out from under her feet. Adem not only works as her bodyguard but also starts to investigate the case to find the real culprits behind the threat letters. In a very short time, he understands that the real culprits cannot approach Timur and his family if they are not supported by someone who is close to the family. Hence, he becomes dangerous for Yasemin as he gets closer to solve the case step by step.
Yasemin, in fact, is the person who has arranged all these attacks and threat letters. When she gets married to Timur, she realizes that the man whom she loves is a monster. Even though she seems to have a perfect and happy marriage, she suffers from a domestic violence and physiological harassment.
Yasemin knows that her husband Timur would not let her go and live in peace if she wants to get divorced. She is so afraid of her husband but at the same time, she knows that she cannot endure all these sufferings. Therefore, she finds a way to start a new life.
Yasemin comes to an agreement with criminals and starts to execute her runaway plan. According to her plan, the criminals would send threat letters and they would follow the order of events same as the case where Timur's ex-wife was kidnapped and disappeared. After a couple of threats and attacks, Yasemin would be kidnapped so that her husband Timur would assume that the same tragic event happens. Everybody would assume Yasemin as dead yet Yasemin would start her new life in abroad with a new identity.
Yasemin's plan goes on track until Adem starts to work as her bodyguard. She tries to send him away but does not manage to do that. With the advice of the criminals, Yasemin starts to use her beauty to attract Adem. If Adem falls in love with Yasemin, he cannot concentrate on his work and fails to notice some details about the case.
New Life (Yeni Hayat) tv series story is about Yasemin who uses her beauty to attract her bodyguard Adem so that she could execute her runaway plan flawlessly. Will Yasemin manage to start her new life in abroad with a new identity? Will Adem solve the case and find real culprits sending threat letters? Will Adem continue to work properly and stand for Yasemin's tricks? Will Yasemin manage to get rid of her husband Timur and live her life in peace? What is secret of Adem's wife?
New Life (Yeni Hayat) Tv Series Cast
External Links
Official Site: https://www.kanald.com.tr/yeni-hayat
English Wikipedia:
Imdb:
Social
Instagram: https://www.instagram.com/yenihayatdizisi/
Twitter: https://twitter.com/yenihayatdizisi
Facebook: https://www.facebook.com/yenihayatdizi
Youtube Channel: https://www.youtube.com/channel/UC0SnrpkD9htjfW2_KDk9WuA
You Might Also Like
Endless Love (Kara Sevda)
New Life (Yeni Hayat) Tv Series Trailer (with English Subtitle)
New Life (Yeni Hayat) Tv Series Trailer (Eng Sub)