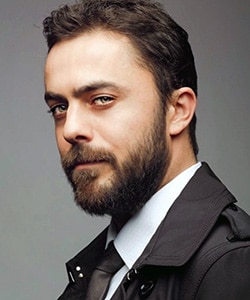 Profile
Name: Eren Hacisalihoglu
Birthdate: June 5, 1986
Birthplace: Trabzon, Turkey
Height: 180 cm
Eye Color: Green
Hair Color: Brown
Education: Istanbul Halic University Conservatory (Istanbul Halic Universitesi Konservatuvar)
Talent Agency:
Spouse:
Biography: Eren Hacisalihoglu was born in 5 June 1986 in Trabzon. He spent his childhood in Ankara even though he comes from Trabzon. He started to study civil engineering but dropped the school in order to become an actor. After then, he studied at the Istanbul Halic University, Conservatory.

Eren Hacisalihoglu Tv Series / Movies
2011 – 2012 Blue Butterflies (Mavi Kelebekler) (as Dejan Stanic)
2014 – Kadim Dostum (as Ferzan Kadim)
2015 – My Heart is in Aegean (Kalbim Ege'de Kaldi) (as Yaman Eryaman)
2016 – Ates (as Yavrum) (Movie)
2016 – Love Loves Lies (Ask Yalani Sever) (as Ferit Kocoglu)
2017 – The Last Emperor (Payitaht Abdulhamid) (as Kemalettin Pasa)
2017 – Sumela'nin Sifresi 3: Cunyor Temel (as Sota) (Movie)
2018 – 2019 Double Trouble (Muhtesem Ikili) (as Demiray Hazan)
2018 – Dunya Hali (as Batu) (Movie)
2019 – Rich and Poor (Zengin ve Yoksul) (as Emir)
2019 – 2021 The Ottoman (Kurulus Osman) (as Batur Bey)
2021 – 2022 Aziz (as Kenan)
Awards
Social
Instagram: @erenhacisalihoglu
Twitter:
Facebook: @ern.hcs
E-Mail:
Trivia
Body Type:
Skills:
Zodiac Sign: Gemini
Blood Type:
Hobbies:
Weight: 74 kg
Eren Hacisalihoglu Gallery