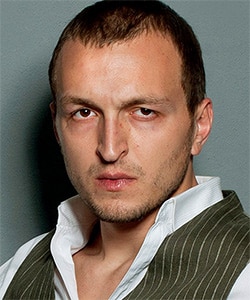 Profile
Name: Saygin Soysal
Birthdate: May 21, 1982
Birthplace: Ankara, Turkey
Height: 191 cm
Eye Color: Brown
Hair Color: Black
Education: Hacettepe University State Conservatory
Talent Agency:
Spouse: Gokce Uzun (m. 2018 – 2020)
Biography: Saygin Soysal was born in 21 May 1982 in Ankara. He is the only child of his family. While he was 2 years old, his family moved to Bursa. After he graduated from primary school, his family moved to Trabzon. Saygin Soysal studied secondary and high school in Trabzon. After then, he studied stage arts at Hacettepe University State Conservatory. Saygin Soysal started his television career with his role at Broken Wings (Kirik Kanatlar) tv series in 2005.
Saygin Soysal Tv Series / Movies
2005 – Broken Wings (Kirik Kanatlar) (as Yunus)
2005 – Fall Fire (Guz Yangini)
2006 – Remember Darling (Hatirla Sevgili) (as Recep Tayyip Erdogan)
2007 – Repulsion (Tiksinti) (as Kamil) (Movie)
2007 – 2008 Rebellious (Asi) (as Aslan Kozcuoglu)
2009 – Kosmos (Movie)
2009 – Can This Heart Forget You? (Bu Kalp Seni Unutur mu?) (as Kursad Suvarioglu)
2010 – Turkan (Ali)
2011 – Home (Yurt) (Movie)
2011 – The Girl with Red Scarf (Al Yazmalim) (as Tahir Oguz)
2012 – Jin (Movie)
2013 – Tatar Ramazan (as Ferit)
2013 – Magnificent Century (Muhtesem Yuzyil) (as Mercan)
2014 – 2015 Dirty Money & Love (Kara Para Ask) (as Metin/Fatih)
2016 – Big Big World (Koca Dunya) (Movie)
2016 – Vanished 46 (46 Yok Olan) (as Dogan)
2017 – Rock (Tas) (Movie)
2017 – The Last Emperor (Payitaht Abdulhamid) (as Theodor Herzi)
2017 – Inflame (Kaygi) (Movie)
2018 – The Pit (Cukur) (as Elvis)
2018 – The Protector (Hakan: Muhafiz) (as Mergen)
2019 – Nobet (as Yigit Akan)
2021 – The Trusted (Marasli) (as Savas Yildirim)
Social
Instagram:
Twitter:
Facebook:
E-Mail: