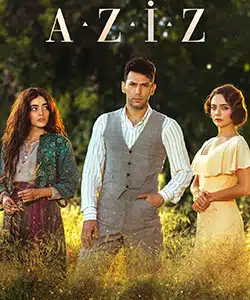 Details
Original Title: Aziz
English Title:
Also Known As:
Genre: Historical, Romance, Drama
Episodes: 7+
Broadcast Network: Show TV
Broadcast Period: 5 November 2021 –
Production Company: o3 Medya
Director: Recai Karagoz
Screen Writer: Eda Tezcan
Filming Locations: Riva, Istanbul
Synopsis
The story takes place in Antakya in 1934. During that time, Antakya was under the French occupation.
Aziz Payidar (Murat Yildirim) is a young man who comes from a wealthy Payidar family. His family owns the only and the biggest carpet store in Antakya.
Aziz is a strong, persuasive and stubborn man who is a promising carpet seller. He works happily together with his father and his uncle in their carpet store.

Aziz has a happy life even though many local people suffer from poverty and oppression under the French occupation. He dreams to get married to his lover Dilruba (Damla Sonmez) whom he has been in love with since he was 10 years old. However, the life of Aziz turns upside down in one day.
Aziz kills a French lieutenant while he is trying to protect an innocent young girl from his assault. Upon this tragedy, He has nothing to do but to leave everything behind and escape from Antakya. If he stays there, he knows that he would be killed in return by French forces.
Aziz runs away without looking back and never returns to his hometown for two years. Everyone believes that he has passed away. However, all of a sudden, he returns to his hometown.
When Aziz returns to Antakya after 2 years of exile, he realizes that everything has changed dramatically. He learns that his father has passed away, his house has become empty due to huge amounts of debt and all his belongings have been sold out. However, he cannot believe that his father committed suicide because of debt.
Additionally, Aziz learns that his lover Dilruba is engaged with his nephew Adem (Guven Murat Akpinar) and is getting married soon. He feels that he is betrayed by his loved ones. Aziz still loves Dilruba and cannot understand why Dilruba has accepted to get married to another man even though she promised to wait him until death.
Meanwhile, Aziz's uncle Galip Payidar (Ahmet Mumtaz Taylan) has become wealthier and stronger. He owns the only and the biggest carpet store in Antakya and aims to increase his profitability through cooperating with French forces. Galip Payidar even decreases the wage rate of carper weavers by using his monopolistic power.
The return of Aziz affects the lives of many people in Antakya. Dilruba starts to question her upcoming marriage. Galip Payidar tries his best to maintain his power. Local people start to believe that Aziz would be their hope against French occupation.
Aziz tv series story is about a young man who becomes a powerful man fighting against cruelty and unfairness after losing everything in life. Will Aziz forgive Dilruba? Will Aziz learn the truth about his father's death? Will Galip Payidar continue to be a ruthless man? Will Aziz cooperate with French forces or will he fight against French occupation?
Aziz Tv Series Cast
Characters
External Links
Official Site: https://www.showtv.com.tr
English Wikipedia:
Imdb:
Social
Instagram: https://www.instagram.com/azizdizisitv/
Twitter: https://twitter.com/azizdizitv
Facebook: https://www.facebook.com/azizdizitv
Youtube Channel: https://www.youtube.com/channel/UCYR7EAv7P9L4Rg8vEXua2nQ
You Might Also Like
Bitter Lands (Bir Zamanlar Cukurova)
Ezel
Wounded Love (Vatanim Sensin)
Aziz Turkish Drama Relationship Chart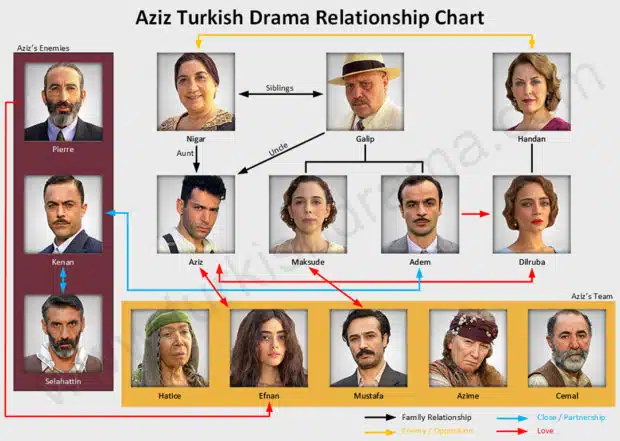 Aziz Tv Series Trailer (with English Subtitle)
Aziz ilk tanıtım | Her Cuma 20.00'de @showtv'de!