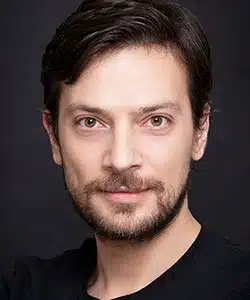 Profile
Name: Cagdas Onur Ozturk
Birthdate: August 16, 1979
Birthplace: Sivas, Turkey
Height: 181 cm
Eye Color: Brown
Hair Color: Black
Education: Ege University Landscape Architecture (Ege Universitesi Peyzaj Mimarligi); Anatolia University State Conservatory Theatre (Anadolu Universitesi Devlet Konservatuvari Tiyatro)
Talent Agency: Abdullah Bulut Management
Spouse:
Biography: Cagdas Onur Ozturk took theatre lessons while he was going to primary, secondary and high school. He took part theatre club when he was going to Ege University. He started his tv career with his role in Turkish drama Veteran Soldier (Gazi) but he became popular with his role Baris in popular Turkish drama North South (Kuzey Guney).

Cagdas Onur Ozturk Tv Series / Movies
2008 – Truth Line (Dogruluk Ekseni) (as Dogan)
2008 – Veteran Soldier (Gazi) (as Akin)
2009 – 2012 Sakarya Firat (as Hasan Turna)
2011 – 2013 North South (Kuzey Guney) (as Baris Hakmen)
2013 – Don't End Like This (Boyle Bitmesin) (as Atilla)
2014 – Can't Run From Love (Asktan Kacilmaz) (as Ali)
2014 – Dreams and Hopes (Dusler ve Umutlar) (as Caki)
2014 – Take Care of Yourself (Kendime Iyi Bak) (as Emre) (Movie)
2014 – Ivy (Sarmasik) (Movie)
2014 – Keep Your Promise (Tut Sozunu) (Movie)
2015 – The Story of Yaz (Yaz'in Oykusu) (as Tunc)
2016 – Love's 5 Status (5 Askin 5 Hali) (Movie)
2016 – Winter Sun (Kis Gunesi) (as Bora Bilgin)
2016 – 2017 Resurrection Ertugrul (Dirilis: Ertugrul) (as Vasilius)
2017 – Cember: 13. Adim (as Mehmet)
2018 – 2019 Prison Yard (Avlu) (as Oktay)
2018 – Yuvamdaki Dusman (as Kemal)
2021 – Akrep (as Ahmet)
2021 – Terapist (as Kerem)
2021 – Fatma (as Yusuf)
2022 – Bonkis (as Caglar)
Social
Instagram: Official Instagram Account
Twitter: Official Twitter Account
Facebook:
E-Mail:
Gallery
Cagdas Onur Ozturk (Vasilius) Interview
Cagdas Onur Ozturk (Vasilius) Interview