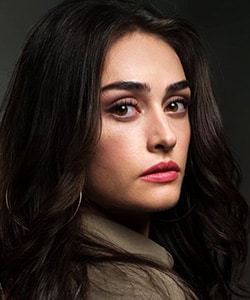 Profile
Name: Esra Bilgic
Birthdate: October 14, 1992
Birthplace: Ankara, Turkey
Height: 178 cm
Eye Color: Brown
Hair Color: Black
Education: Hacettepe University Archelogy (Hacettepe Universitesi Arkeoloji Bolumu), Bilkent University International Relations (Bilkent Universitesi Uluslararasi Iliskiler)
Talent Agency:
Spouse: Gokhan Tore (m. 2017–2019)
Biography: Esra Bilgic was born in 14 September 1992 in Ankara. She made her debut with her role as Halime Hatun in popular Turkish drama Resurrection Ertugrul (Dirilis Ertugrul). Esra Bilgic got married to Turkish soccer player Gokhan Tore in 21 October 2017 after dating since 2014 but the couple got divorced in 17 June 2019.

Esra Bilgic Tv Series / Movies
Awards
2014 – Antalya TV Awards (Antalya Televziyon Odulleri) – Best Actress in TV series (Resurrection Ertugrul) – Yilin Dizi Oyuncusu (Dirilis Ertugrul)
2015 – Social Awareness Awards (Sosyal Farkindalik Odulleri) – Best Actress in TV series (Resurrection Ertugrul) – Yilin Dizi Oyuncusu (Dirilis Ertugrul)
2015 – Anatolia Media Awards (Anadolu Medya Odulleri) – Best Actress in TV series (Resurrection Ertugrul) – Yilin Dizi Oyuncusu (Dirilis Ertugrul)
2015 – 18. Sadri Alisik Theater and Cinema Awards (18. Sadri Alisik Tiyatro Sinema Oyuncu Odulleri) – Best Actress (Resurrection Ertugrul) – Yilin Dizi Oyuncusu (Dirilis Ertugrul)
2016 – Turkey Youth Awards (Turkiye Genclik Odulleri) – Best Actress (Resurrection Ertugrul) – Yilin Dizi Oyuncusu (Dirilis Ertugrul)
Social
Instagram: Official Instagram Account
Twitter: Official Twitter Account
Facebook:
E-Mail: Contact
Trivia
Body Type:
Skills:
Star Sign: Libra
Blood Type:
Hobbies:
Weight: 50 kg
Esra Bilgic Gallery