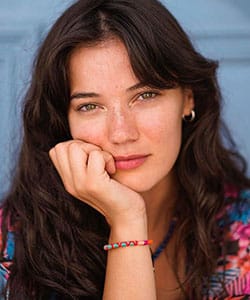 Profile
Name: Pinar Deniz
Birthdate: November 4, 1993
Birthplace: Adana, Turkey
Height: 168 cm
Eye Color: Green
Hair Color: Black
Education: Istanbul University Public Relations and Advertising (Istanbul Universitesi Halkla Iliskiler ve Reklamcilik Bolumu)
Talent Agency: Ajans Tuba Tacan
Spouse:
Biography: Pinar Deniz was born in 10 November 1994 in Adana, as a daughter of a family Arab descent. Since she was 2 years old, she has been raised in Istanbul, Tarabya. She has been dreaming of becoming an actress since her childhood. She made her debut with her role in Turkish series Start from the Beginning (Sil Bastan) in 2014. She became very popular with her role as Yildiz in popular Turkish drama Wounded Love (Vatanim Sensin). Pinar Deniz became the female lead in turkish series A Crazy Heart (Bir Deli Ruzgar) but, this series was finalized due to low ratings.

Pinar Deniz Tv Series / Movies
2014 – Start From the Beginning (Sil Bastan) (as Evrim)
2015 – White Lie (Beyaz Yalan) (as Berrak)
2015 – Gunebakan (as Sinem)
2016 – 2018 Wounded Love (Vatanim Sensin) (as Yildiz)
2017 – My Brother 2 (Kardesim Benim 2) (as Didem) (Movie)
2018 – A Crazy Heart (Bir Deli Ruzgar) (as Gokce Yucel)
2020 – King (Kral) (as Zahide)
2020 – 2021 Love 101 (Ask 101) (as Burcu Distas)
2020 – Insanlar Ikiye Ayrilir (as Ceren) (Movie)
2020 – The Agency (Menajerimi Ara) (as Pinar)
2021 – The Red Room (Kirmizi Oda) (as Nazli Gundogan)
2021 – Judgement (Yargi) (as Ceylin Erguvan Kaya)
2022 – Askin Kiyameti (as Lidya / Banu) (Movie)
Awards
Social
Instagram: @pinarrdenizzz
Twitter: @pinardeniz12
Facebook: @PinarDenizOfficial
E-Mail:
Trivia
Body Type:
Skills:
Star Sign:
Blood Type:
Hobbies:
Pinar Deniz Gallery
Pinar Deniz & Murat Dalkilic – Yani