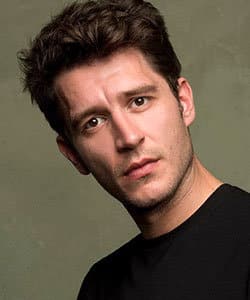 Profile
Name: Uraz Kaygilaroglu
Birthdate: June 30, 1987
Birthplace: Istanbul, Turkey
Height: 188 cm
Eye Color: Brown
Hair Color: Black
Education: Istanbul Bilgi University – Advertising (Istanbul Bilgi Universitesi Reklamcilik)
Talent Agency: Onem Gunal Agent Management
Spouse: Melis Isiten (m. 2014 – 2019)
Children: Ada Kaygilaroglu
Biography: Uraz Kaygilaroglu was born in 30 June 1987. He took part in various tv projects but became well-kown with his role Can in youth Turkish series Dirty Seven (Pis Yedili). At first, he acted in supporting roles but after loosing weight, he started to become the lead characters in Turkish series. Besides tv series, Uraz Kaygilaroglu also worked as presenters of some quiz shows such as Tam Zamani, and Takip.
Uraz Kaygilaroglu Tv Series / Movies
2009 – Back Streets (Arka Sokaklar)
2008 – One Out of Million (Milyonda Bir) (as Berke)
2009 – Canini Sevdigim Istanbul'u (as Ferhat)
2009 – Dragon Trap (Ejder Kapani) (Movie)
2009 – 2010 Es Es (as Fethi)
2009 – Graduation (Mezuniyet) (as Umut) (Movie)
2011 – 2013 Dirty Seven (Pis Yedili) (as Canburger)
2011 – Veda (as Cinar)
2012 – Harem (as Feminen Aga)
2013 – Old Story (Eski Hikaye) (as Omer)
2014 – Seven Good Men (Yedi Guzel Adam) (as Erdem Bayazid)
2015 – 2016 What Happens To My Family (Baba Candir) (as Haluk Guney)
2016 – Bamsi Beyrek (as Bamsi Beyrek) (Movie)
2016 – Deli Dumrul (Movie)
2016 – It's Yours When Returns (Donerse Senindir) (as Kurt) (Movie)
2017 – Keyboard Youth (Klavye Delikanlilari) (as Kuzen Volki)
2017 – Whom Are You Dancing With (Sen Kiminle Dans Ediyorsun?) (as Selim) (Movie)
2018 – We Are Not Innocent (Masum Degiliz) (as Mert)
2018 – Two Parts One Love (Ege'nin Hamsisi) (as Deniz Cinar)
2018 – Dance with the Jackals 5 (Cakallarla Dans 5) (as Sinan) (Movie)
2019 – As Original (Asli Gibidir) (Movie)
2019 – Karakomik Filmler (as Ethem) (Movie)
2019 – Aynen Aynen (as Emir)
2019 – The Ambassador's Daughter (Sefirin Kizi) (as Gediz Isikli)
2020 – War of Sister-in-Laws (Eltilerin Savasi) (as Fatih) (Movie)
2021 – Love 101 (Ask 101) (as Adult Sinan)
2021 – The Bad Penny (Uc Kurus) (as Kartal Caka)
Social
Instagram: https://www.instagram.com/urazka/
Twitter: https://twitter.com/urazka
Facebook: https://www.facebook.com/UrazKaygilaroglu/
E-Mail:
Uraz Kaygilaroglu Gallery
Uraz Kaygilaroglu – What is lie (Eng Sub)
Uraz Kaygilaroglu - What is lie (Eng Sub)
Uraz Kaygilaroglu – Dreams and realities (Eng Sub)
Uraz Kaygilaroglu - Dreams and realities (Eng Sub)