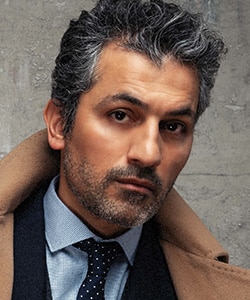 Profile
Name: Feyyaz Duman
Birthdate: June 14, 1982
Birthplace: Mardin, Turkey
Height: 182 cm
Eye Color: Brown
Hair Color: Black
Education: Istanbul Technical University – Turkish Music State Conservatory (ITU Turk Musikisi Devlet Konservatuari); CUNY-Brooklyn College – Technical Production & Design in Theatre; Fulton Montgomery Community College Acting Class – Theater Practicum Class, Gordon Jacoby – New York
Talent Agency: Selin Kok Management
Spouse: Zozan Simsek
Children: Narin Duman
Biography: Feyyaz Duman was born in 1982 in Mardin, Turkey. After studying at Istanbul Technical University, he went to New York, USA to get acting training. He stayed 5 years in New York and then returned to Turkey. Feyyaz Duman started his acting career on tv with his role in turkish series Insider (Icerde) in 2016. After then, he became well-kwon with his role in turkish drama Woman (Kadin).

Feyyaz Duman Tv Series / Movies
1999 – Boran (Short Movie)
2001 – The Photograph (Fotograf) (as Faruk) (Movie)
2001 – Big Man, Little Love (Buyuk Adam Kucuk Ask) (Movie)
2010 – Eger Olursen Oldururum (Movie)
2011 – Si Tu Meurs, Je Te Tue (as Azad) (Movie)
2013 – My Sweet Pepper Land (Tatli Biber Diyarim) (as Jaffar Mohammed Emin) (Movie)
2014 – Mardan (as Morad) (Movie)
2014 – Song of My Mother (Annemin Sarkisi) (as Ali) (Movie)
2015 – House Without Roof (Catisiz Ev) (Movie)
2017 – Zagros (as Zagros) (Movie)
2017 – Insider (Icerde) (as Serkan)
2017 – Never Leave Me (as Adil) (Movie)
2017 – 2020 Woman (Kadin) (as Arif Kara)
2018 – Ugly Duckling (Zor Bir Karar) (as Nezir) (Movie)
2020 – The Hive (Kovan) (as Ilker) (Movie)
2020 – 2021 Nehir (Baraj – Dam) (as Nazim Guney)
2021 – Yalancilar ve Mumlari (as Yakup Bozturk)
2022 – My Son (Oglum) (as Tugrul Kaya)
Awards
2014 – Saraybosna Film Festivali – En Iyi Erkek Oyuncu (Annemin Sarkisi)
2014 – 51st Golden Orange Film Festival (51. Altin Portakal Film Festivali) – Best Actor (Song of My Mother) – En Iyi Erkek Oyuncu (Annemin Sarkisi)
2015 – Mons Insternational Film Festival (Mons Uluslararasi Film Festivali) – Best Actor (Song of My Mother) – En Iyi Erkek Oyuncu (Annemin Sarkisi)
2015 – Duhok Insternational Film Festival (Duhok Uluslararasi Film Festivali) – Best Actor (Song of My Mother) – En Iyi Erkek Oyuncu (Annemin Sarkisi)
2018 – Duhok Insternational Film Festival (Duhok Uluslararasi Film Festivali) – Best Actor (Zagros) – En Iyi Erkek Oyuncu (Zagros)
Social
Instagram: Official Instagram Account
Twitter:
Facebook:
E-Mail:
Trivia
Body Type:
Skills:
Star Sign: Gemini
Blood Type:
Hobbies:
Weight: 65 kg
Feyyaz Duman Gallery
Zagros Movie Trailer (Eng Sub)
Zagros Movie Trailer (Eng Sub)