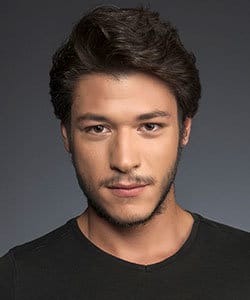 Profile
Name: Kubilay Aka
Birthdate: May 5, 1995
Birthplace: Istanbul, Turkey
Height: 178 cm
Eye Color: Hazel
Hair Color: Brown
Education: Eskisehir Anatolian University Airport Management Department (Eskisehir Anadolu Universitesi Havaalani Bolumu)
Talent Agency: Socia Entertainment & Gcma
Spouse:
Biography: Kubilay Aka took acting lessons after he graduated from the university. He was discovered while he was working at the airport. He took attention of Ufuk Ergin and then, found himself in the audition of Wounded Love. He made his debut with his role as Ali Kemal in popular Turkish drama Wounded Love (Vatanim Sensin).
Kubilay Aka Tv Series / Movies
2016 – 2017 Wounded Love (Vatanim Sensin) (as Ali Kemal)
2017 – Arif V 216 (as Yakisikli Kemal) (Movie)
2017 – 2018The Pit (Cukur) (as Celasun Gumus)
2018 – Is this Love? (Ask Bu Mu?) (as Umut) (Movie)
2020 – 2021 Love 101 (Ask 101) (as Kerem)
2021 – Ask 102 (as Kerem)
2021 – Love Reserved (Cam Tavanlar) (as Cem Kumcu)
Social
Instagram: https://www.instagram.com/kubilayakaa/
Twitter: https://twitter.com/kubilayakaa
Facebook:
Trivia
Body Type: Athletic
Skin Color: White
Skills: Kick Boxing, Muay Thai, MMA, Classic Guitar, Scuba Diving
Qualities: English (Advanced), Driver's License (B + A2)
Zodiac Sign: Taurus
Blood Type:
Hobbies:
Weight: 77 kg
Kubilay Aka Gallery
Kubilay Aka Interview
Celasun: Are you ready?
Kubilay Aka (Celasun) - Are you ready?