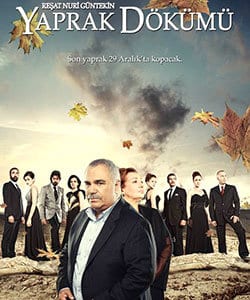 Details
Original Title: Yaprak Dokumu
English Title: The Fall of Leaves
Also Known As: Leaf Cast (English), Al Awrak Al Mutasaketa (Arabic), Poveste de Familie (Romania), Листопад (Bulgaria)
Genre: Drama, Family
Episodes: 175
Broadcast Network: Kanal D
Broadcast Period: September 13, 2006 – December 29, 2010
Production Company: Ay Yapim
Director: Mesude Eraslan
Screen Writer: Ece Yorenc, Melek Gencoğlu
Synopsis
The family patriarch Ali Riza (Halil Ergun) devotes his life to leave good values to his five children: Fikret (Bennu Yildirimlar), Sevket (Caner Kurtaran/Hasan Kucukcetin), Leyla (Gokce Bahadir), Necla (Fahriye Evcen) and the youngest daughter Ayse. Therefore, he tries to teach them on moral values, justice, honesty and trustworthy, but misses to prepare them for the real cruel life in Istanbul. When asked to ignore an injustice, he resigns from his position as District Governor and decides to settle in Istanbul where his daughter Necla is accepted to a university. Although his wife Hayriye (Guven Hokna) is nervous about leaving, Leyla, Necla and little Ayse are very excited. Upon their arrival, Ali Riza realizes that the city where he was born and raised has changed a lot. Soon, darkness invades his family after the involvement of main antagonist characters Ferhunde (Deniz Cakir) and Oguz (Tolga Karel).

In Leaf Cast tv series story which is based on the work of the foremost Turkish author Resat Nuri Guntekin, you will explore the resistance of a family to social and economic conditions. Will Ali Riza manage to keep his family together despite all the hardships or will his family completely fall apart? Will their arrival in Istanbul transform each family member in a way they can't imagine? Will the fall of the leaves be avoidable in this family which has strong values?
The Fall of Leaves Cast
Halil Ergun as Ali Riza
Guven Hokna as Hayriye
Bennu Yildirimlar as Fikret
Deniz Cakir as Ferhunde
Caner Kurtaran/Hasan Kucukcetin as Sevket
Gokce Bahadir as Leyla
Fahriye Evcen as Necla
Tolga Karel as Oguz
Engin Hepileri as Emir
Recognitions
35. Golden Butterfly Awards (2008): Best Actress (Bennu Yildirimlar)
35. Golden Butterfly Awards (2008): Best Actor (Halil Ergun)
35. Golden Butterfly Awards (2008): Best Drama (Yaprak Dokumu)
External Links
Official Site: http://www.yaprakdokumu.tv/
English Wikipedia: https://en.wikipedia.org/wiki/Yaprak_Dökümü_(TV_series)
Imdb: http://www.imdb.com/title/tt0856757/
You Might Also Like
All My Children (Butun Cocuklarim)
Our House (Babaevi)
Leaf Cast (Yaprak Dokumu) trailer (Eng Sub)
The Fall of Leaves - Leaf Cast (Yaprak Dokumu) Trailer (Eng Sub)