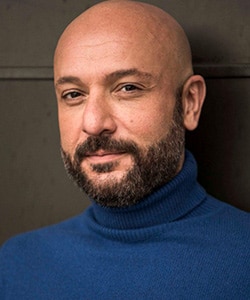 Profile
Name: Tolga Tekin
Birthdate: March 19, 1973
Birthplace: Ankara, Turkey
Height: 185 cm
Eye Color: Brown
Hair Color: Brown (Bald)
Education: Hacettepe University State Conservatory – Theatre (Hacettepe Universitesi Devlet Konservatuvari Tiyatro Bolumu)
Talent Agency: Renda Guner Cast Agency
Spouse: Zeynep Koltuk (m. 2013–2014)
Biography: Tolga Tekin was born in 19 March 1973 in Ankara. He graduated from Hacettepe University State Conservatory in 1996. After graduation, he started working at Adana State Theatre. He worked at Adana State Theatre during the period of 1996-2004. After then, he worked at Ankara State Theatre. Tolga Tekin started his television acting career with his role at Turkish series named Bizim Evin Halleri. He took part in this tv series together with Beyhan Saran, Meral Niron, Emel Goksu, Aysenil Samlioglu and Zeynep Koltuk during the period of 2000-2008. While shooting this tv series, Tolga Tekin met Zeynep Koltuk. The couple got married in 20 July 2013 and got divorced in 2014.
Tolga Tekin Tv Series / Movies
2008 – Bizim Evin Halleri (as Safa)
2009 – Starfish (Deniz Yildizi) (as Tayfun)
2010 – Grand Bazaar (Kapali Carsi) (as Mustafa Kurtoglu)
2010 – Kardelen (Movie)
2011 – Zenne (as Cihan) (Movie)
2011 – Reis (as Yunus)
2011 – Behzat C. (Behzat C. Seni Kalbime Gomdum) (as Gorbacov) (Movie)
2012 – Naked Truth (Ciplak Gercek) (as Nedim)
2012 – Magnificent Century (Muhtesem Yuzyil) (as Barbaros Hayreddin Pasa)
2013 – Behzat C. (Behzat C. Ankara Yaniyor) (as Gorbacov) (Movie)
2013 – Homicide Desk Istanbul (Cinayet Masasi Istanbul) (as Nadir Irtegun)
2014 – Broken Pieces (Paramparca) (as Ozkan Gulpinar)
2014 – Why Can't I Be Tarkovsky (Neden Tarkovski Olamiyorum) (as Alp) (Movie)
2016 – Swaying Waterlily (Ruzgarda Salinan Nilufer) (as Korhan) (Movie)
2018 – Wounded Love (Vatanim Sensin) (as Mehmet Akif Ersoy)
2018 – One Liter Tears (Bir Litre Gozyasi) (as Muzaffer Yurekli)
2018 – Butterflies (Kelebekler) (as Cemal) (Movie)
2019 – Remember Us (Bizi Hatirla) (as Kaan) (Movie)
2020 – Rise of Empires: Ottoman (as Sultan 2. Murat)
2021 – Akinci (as Orhan)
2021 – 50m2 (as Mesut)
Awards
2011 – Baykal Saran Theatre Awards (Yastik Adam) – Baykal Saran Tiyatro Odulu (Yastik Adam)
2017 – 28. Ankara Film Festival (28. Ankara Film Festivali) – Best Actor (Swaying Waterlily) – En Iyi Erkek Oyuncu (Ruzgarda Salinan Nilufer)
2018 – 37. Istanbul Film Festival (37. Istanbul Film Festivali) – Best Actor (Butterflies) – En Iyi Erkek Oyuncu (Kelebekler)
Theate Plays
1996 – Turkmen Dugunu
1997 – Harikalar Mutfagi
1997 – Ikinci Bolum
1998 – Soytarilar
1998 – V.Frank
1999 – Karar Kimin
2000 – Hircin Kiz
2000 – Kacik
2001 – Bagdat Hatun
2001 – Cadi Kazani
2001 – Kizilirmak Karakoyun
2002 – Abdulcambaz
2002 – Cimri
2003 – Figaro'nun Dugunu
2001 – Kuru Gurultu
2004 – Firtina
2004 – Carmela ve Paolino
2005 – Ask-i Memnu
2005 – Kayip Topragin Turkusu
2006 – Salome
2006 – Kesanli Ali Destani
2009 – Don Giovanni ve Usagi Pulcinella
2010 – Uc Yonetmen Uc Oyun
2011 – Yastik Adam
Social
Instagram: https://www.instagram.com/tolgatekinnn/
Twitter:
Facebook:
E-Mail:
Trivia
Body Type:
Skills:
Zodiac Sign: Pisces
Blood Type:
Hobbies:
Weight: 79 kg
Tolga Tekin Gallery