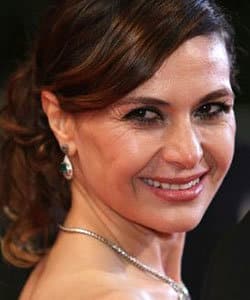 Profile
Name: Hatice Aslan
Birthdate: February 20, 1962
Birthplace: Sivas, Turkey
Height: 168 cm
Eye Color: Brown
Hair Color: Brown
Education: Ankara State Conservatory – Theatre (Ankara Devlet Konservatuvari)
Talent Agency: Persona Management
Spouse: Renan Kaleli (m. 1992 – 2000)
Children: Ekin Ergok
Biography: Hatice Aslan was born in Sivas in 1962. After she was graduated from Ankara State Conservatory in 1983, she took part in various theatre plays such as "Bozkir Guzellemesi", "Huznun Coskusu Altindag", "Azizname 95", "Gergedan", "Kaygusuz Abdal" and "Olumsuzler". She worked at Izmir State Theatre during 1986-1992. After then, she returned to Ankara and started to work at Ankara State Theatre in 1992. After 2000, she started to work at Istanbul State Theatre. She was nominated to Afife Jale Awards with her role in theatre play "Kucuk Adam Ne Oldu Sana".
Hatice Aslan Tv Series / Movies
1992 – Dreams of Elif (Elifin Ruyalari)
1993 – Deli Balta (as Rosa)
1993 – Mrs. Ferhunde (Ferhunde Hanimlar) (as Necla)
2000 – The Yellow House Mistery (Sari Evin Esrari) (as Melike)
2002 – Fathers Last Hear (En Son Babalar Duyar) (as Hulya)
2002 – Kinali Kar (as Leyla)
2003 – A.G.A
2003 – Hurrem Sultan (as Mahidevran)
2003 – Sassy Viola (Hircin Menekse) (as Pelin)
2007 – Bayrampasa: I Will Not Stay Long (Bayrampasa: Ben Fazla Kalmayacagim) (as Hatice) (Movie)
2007 – Beautiful Days (Guzel Gunler) (as Feride)
2008 – Wedding Singer (Dugun Sarkicisi) (as Sukran)
2009 – Envy (Kiskanmak) (as Feriha) (Movie)
2009 – Innocent (Masumlar) (as Nejla)
2009 – The Three Monkeys (Uc Maymun) (as Hacer) (Movie)
2009 – The East Games (Sark Oyunlari) (Movie)
2010 – 2013 The Tulip Age (Lale Devri) (as Zumrut Taskiran)
2010 – Dangerous Love (Samanyolu) (as Belkis)
2011 – Escape (Firar)
2011 – Body (Vucut) (as Leyla) (Movie)
2014 – The Noble of Today (Bugunun Saraylisi) (as Turkan)
2015 – Together Even If We Got Divorced (Ayrilsak da Beraberiz) (as Mehves)
2015 – May Queen (Mayis Kralicesi) (as Asu Aytekin)
2017 – Glass Mask (Icimdeki Firtina) (as Perihan)
2018 – Her Name is Zehra (Adi Zehra) (as Sule Kurdoglu)
2018 – A Crazy Wind (Bir Deli Ruzgar) (as Melike Candan)
2019 – Kuzgun (as Meryem)
2020 – Alef (as Semiha)
2020 – 2021 Phoenix (Zumruduanka) (as Ulfet Kuloglu)
2021 – Love Reserved (Cam Tavanlar) (as Sureyya)
Awards
2011 – 18. International Golden Cocoon Film Festival (18. Uluslararasi Altin Koza Film Festivali) – Best Actress (Body) – En Iyi Kadin Oyuncu (Vucut)
2009 – 2. Yesilcam Awards (2. Yesilcam Odulleri) – Best Actress (The Tree Monkeys) – En Iyi Kadin Oyuncu (Uc Maymun)
2009 – 41. Siyad Turkish Cinema Awards (41. Siyad Turk Sinemasi Odulleri) – Best Actress (The Tree Monkeys) – En Iyi Kadin Oyuncu (Uc Maymun)
2009 – 7. River Run International Fil Festival (7. River Run Uluslararasi Film Festivali) – Best Actress (The Tree Monkeys) – En Iyi Kadin Oyuncu (Uc Maymun)
Social
Instagram: https://www.instagram.com/hatisaslan/
Twitter:
Facebook:
E-Mail:
Trivia
Body Type:
Skills:
Star Sign:
Blood Type:
Hobbies:
Hatice Aslan Gallery
Hatice Aslan (Diary of Mu) (with English Subtitles)
Diary of Mu presents HATİCE ASLAN | Mu Tunç