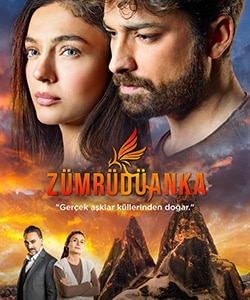 Details
Original Title: Zumruduanka
English Title: Phoenix
Also Known As:
Genre: Drama, Romance
Episodes: 9+
Broadcast Network: Fox Tv
Broadcast Period: January 25, 2020 –
Production Company: Pastel Film
Director: Serhan Sahin
Screen Writer: Can Sinan (1-9 episodes), Eylem Canpolat (10- episodes)
Filming Locations: Cappadocia
Synopsis
Zumrut (Ceren Yilmaz) is a beautiful young girl who lives together with her mother Ulfet (Hatice Aslan), her sister Meliha (Miray Akay) and her father. She works at a factory and supports her family financially.
The factory where Zumrut works is owned by a powerful family Demirkan. Demirkan family is a well-known family in Cappadocia.
The heir of Demirkan family is a handsome and young guy Serhat (Alp Navruz) who is in love with Zumrut.

Zumrut and Serhat have been dating secretly and dream to get married after Serhat discharges from the military duty.
Zumrut is willing to wait for her lover but her marriage plan turns upside down when she learns that Serhat is killed on duty.
The bad news spread all over Cappadocia. Not only Demirkan family but also Zumrut mourn upon the death of Serhat.
One year later, Zumrut's fate intersects with Demirkan family again. This time, Serhat's uncle Adil asks for Zumrut's hand.
Adil is a middle-aged man who is the boss of the factory where Zumrut works. He is attracted by Zumrut's purity, beauty, and thoughtfulness.
Adil eventually finds the person whom he is willing to get married but he cannot win Zumrut's heart no matter whatever he does.
Zumrut does not accept the marriage proposal even though Adil comes from a wealthy family. She cannot explain that she had been dating with Serhat who is the nephew of Adil. She is still in love with Serhat and mourns for him after his death. That's why, she rejects the marriage proposal.
However, Zumrut's mother Ulfet learns that powerful Adil Demirkan is attracted by her daughter.
Ulfet is a passionate woman who wants to get rid of poverty. Thus, she wants her daughter to get married to a wealthy man. When she learns that she could become in-laws with Demirkan family, she tries her best to persuade Zumrut for accepting the marriage proposal.
Ulfet uses every trick in the book to persuade her daughter. Eventually, she collaborates with her little daughter Meliha (Miray Akay) and makes a secret plan. According to their plan, Ulfet would force Meliha into marriage if Zumrut does not accept to get married to Adil Demirkan and Meliha would play for sympathy of her sister and would threaten them to kill herself. Their plan becomes successful and Zumrut accepts to get married in order to save her little sister.
Zumrut and Adil organize a wedding ceremony and accept the greetings. After they get married officially, they are shaken with a great surprise.
Serhat shows up at the wedding ceremony all of a sudden. Everybody is surprised because they assume him death. While everybody becomes happy to see him all alive, Zumrut feels a huge remorse for her wedding decision.
Zumruduanka (Phoenix) tv series story is about a beautiful girl Zumrut who gets married to a wealthy man Adil upon the death of her lover Serhat. Will Zumrut disregard her wedding decision when she learns that her lover Serhat is alive? Will Serhat learn the truth about this marriage and understand Zumrut's decision? Will Zumrut and Serhat manage to tackle all the obstacles in front of their ways and retain their love to each other?
Zumruduanka (Phoenix) Tv Series Cast
Alp Navruz as Serhat Demirkan
Ceren Yilmaz as Zumrut Kuloglu
Selim Bayraktar as Abbas Demirkan
Umut Karadag as Adil Demirkan
Sebahat Kumas as Saniye Arsoy
Ayten Uncuoglu as Azimet Demirkan
Hatice Aslan as Ulfet Kuloglu
Itir Esen as Nisa
Serhat Ozcan as Rustem Kuloglu
Elif Cakman as Nevcihan Demirkan
Miray Akay as Meliha Kuloglu
Pelin Abay as Suhandan Demirkan
Baris Kucukguler as Latif Demirkan
Mine Kilic as Fitnat Gulseven
Dogukan Gungor as Hamit Ozguc
Korkmaz Arslan as Niyazi Kilic
Asiye Dincsoy as Done Kilic
Gokhan Bekletenler as Omer Lutfi Bakirci
Ebrar Baba as Songul Kuloglu
Ismail Hacioglu as Cihan
Gokce Eyuboglu as Deniz
Beste Ilgin Ilkbahar as Isik
External Links
Official Site: https://www.fox.com.tr/Zumruduanka/izle
English Wikipedia:
Imdb:
You Might Also Like
Love is in the Air (Yer Gok Ask)
Hercai
Zumruduanka (Phoenix) Tv Series Gallery