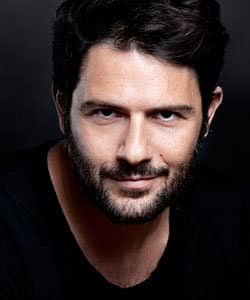 Profile
Name: Kenan Cahit Ece
Birthdate: December 24, 1980
Birthplace: Dubai, United Arab Emirates
Height: 180 cm
Eye Color: Brown
Hair Color: Black
Education: Istanbul St. George's Austrian High School (Istanbul Avusturya Lisesi); New York Davidson College Theatre and Economy (2004); Gaeity School of Acting and Irish Film Academy.
Talent Agency: Glamorous Celebrity Management Agency
Spouse: Canan Erguder (m. 2017 – present)
Children: Demir Ece
Biography: Kenan Ece was born in Dubai, UAE in December 24, 1980. While he was going to university, he took part in various theatre plays in New York. After graduation, he worked as financial analyst in Ireland for 2 years. He also studied at Gaeity School of Acting and Irish Film Academy while he was working at the energy company. Kenan Ece decided to pursue his acting career and quit his job at the energy company. He worked at Ireland State Theatre The Abbey for 3.5 months. Kenan Ece returned to Istanbul in 2009.
Kenan Ece Tv Series / Movies
2009 – Innocent (Masumlar) (as Kaan)
2009 – Ask Your Heart (Yuregine Sor) (as Mustafa) (Movie)
2010 – Deli Sarayli (as Emir Zahir)
2010 – The Galaxy (Samanyolu) (as Namik)
2011 – Eclipse (Ay Tutulmasi) (as Kenan)
2011 – Don't Forget Me (Beni Unutma) (as Hakan) (Movie)
2011 – Izmir Gangs (Izmir Cetesi) (as Ates)
2012 – Crème (Krem) (as Onur)
2012 – Safe and Sound (Sag Salim) (as Ayhan) (Movie)
2012 – End (Son)
2012 – Dance with the Jackals 2 (Cakallarla Dans: Hastasiyiz Dede) (as Berkant Yucedal) (Movie)
2014 – Gulyabani (as Murat) (Movie)
2014 – 2016 War of Roses (Gullerin Savasi) (as Tibet)
2014 – Heart Stealer (Kalp Hirsizi) (as Tekin)
2014 – Little Lord (Kucuk Aga) (as Volkan)
2015 – Ask Olsun (as Caner) (Movie)
2015 – 125 Years Memory (Ertugrul 1890) (as Mustafa) (Movie)
2015 – Magi (Movie)
2017 – Cingoz Recai (Movie)
2017 – Taksim Hold'em (as Odun) (Movie)
2017 – Wall Pass (Ver Kac) (as Sedat) (Movie)
2018 – Prison Yard (Avlu) (as Murat Unal)
2020 – A Woman Scorned (Sadakatsiz – Unfaithful) (as Turgay Gungor)
Awards
2012 – 17. Sadri Alisik Awards (17. Sadri Alisik Odulleri) – Best Actor in Supporting Role (Don't Forget Me) – En Iyi Yardimci Erkek Oyuncu (Beni Unutma)
Social
Instagram: https://www.instagram.com/kenanece/
Twitter: https://twitter.com/Kenan__Ece
Facebook:
E-Mail: [email protected]
Kenan Ece Gallery