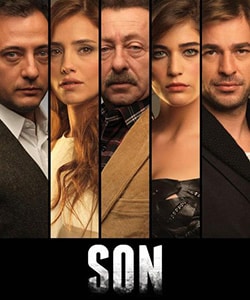 Details
Original Title: Son
English Title: The End
Also Known As: Runner, Yeh Hai Meri Kahani, لغز الماضي , Lögnen
Genre: Mystery, Romance, Drama
Episodes: 25
Broadcast Network: ATV
Broadcast Period: January 7, 2012 – July 7, 2012
Production Company: Ay Yapim
Director: Uluc Bayraktar
Screen Writer: Berkun Oya
Synopsis
Aylin (Nehir Erdogan) is a beautiful married woman and loves her husband Selim (Yigit Ozsener) so much. They have a wonderful life: they are rich, they are successful at their works, and they have a 7 year-old son. Their life is just perfect. However, this perfect life turns upside down after Selim's business trip to Frankfurt, Germany.
Before this business trip, they organize a birthday party for their son. They invite their loved ones. Their close friend Halil (Engin Altan Duzyatan) also comes to the party with his wife Alev (Berrak Tuzunatac).
Halil is both a business partner of Aylin at the architecture company and a childhood friend of Selim. They have spent their childhood together and Halil's parents have raised Selim when he lost his parents and his twin in a traffic accident. Unfortunately, unlike his close friend, Halil is not happy at his marriage with Alev. They have lots of discussions and they are on the verge of divorce.

In this process, Aylin and Selim try to help their friend and sometimes try to understand why Alev is depressed all the time.
On the day of the trip, Aylin and Selim start a beautiful day again.
Aylin drops her husband off to the airport and hopes that these three days without him would pass as quickly as possible. However, at the end of the day, she learns the plane accident. She could not believe that she has lost her lovely husband. Although her parents and her friends try to help her, she still feels lonely.
Aylin now realizes that her perfect life is gone and nothing would be same again as before. However, she forgets something: this is not the end of unfortunate things. This is because, she encounters with a new problem in each day after this devastating event.
First, Aylin wants her husband's dead body back but the airline firm could not give enough assistance at this point.
Second, Aylin learns that her husband has bought the ticket to Frankfurt but has not checked in to the plane ever.
And third, when Aylin looks at the airport video tapes, she sees that her husband hasn't got on the plane, instead he has met another woman at the airport and left the airport with her.
In the end (son) tv series story, you will see that it is too difficult to trust anybody and you will explore mystery, twisting events, love, friendship, and hatred at the same time. What will Aylin do after learning the lies of her husband? Who is that mysterious woman at the airport? Is there any other secrets buried in the past?
The End (Son) Tv Series Cast
Nehir Erdogan as Aylin
Yigit Ozsener as Selim
Engin Altan Duzyatan as Halil
Erkan Can as Ali
Berrak Tuzunatac as Alev
Ugur Polat as Kudret
Kaan Urgancioglu as Tayfun
External Links
Official Site: https://www.ayyapim.com/en-us/the-end
English Wikipedia:
Imdb:
Youtube Channel: https://www.youtube.com/user/sondizitv/
You Might Also Like
Ezel (Ezel)
The End (Son) Tv Series Gallery
Trailer (with English Subtitle)
The End (Son) Tv Series Trailer (English Subtitle)
Trailer – 1 (English)
The End (Son) Tv Series Trailer - 1 (English)