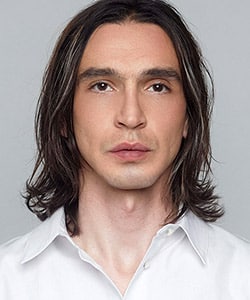 Profile
Name: Ahmet Melih Yilmaz
Birthdate: 1989
Birthplace: Ankara, Turkey
Height: 185 cm
Eye Color: Brown
Hair Color: Black
Education: Ankara University – Theatre (Ankara Universiteis Dtcf Tiyatro Oyunculuk Ana Sanat Dali)
Talent Agency: Televi Management
Spouse:
Biography: Ahmet Melih Yilmaz was born in 1989 in Ankara. He came to Istanbul in 2015 and took attention through his role at theatre play Woyzeck Tale (Woyzeck Masali). After taking part in various theatre plays, he also started his television career.
Ahmet Melih Yilmaz Tv Series / Movies
2015 – Frenzy (Abluka) (as Nuri) (Movie)
2017 – Flames of Desire (Hayat Sarkisi)
2017 – More (Daha) (as Osman) (Movie)
2017 – The Gulf (Korfez) (as Cihan) (Movie)
2017 – 2018 Secrets of Life (Hayat Sirlari)
2018 – Yuva (Movie)
2019 – 2020 The Pit (Cukur) (as Timsah Celil)
2020 – Leyla Once Again (Yeniden Leyla) (Movie)
2020 – In The Shadows (Golgeler Icinde) (as Ati) (Movie)
2021 – Ex-Love (Ex Askim) (as Berke)
2021 – Love Reserved (Cam Tavanlar) (as Sinasi)
2021 – Icimdeki Kahraman (as Kahraman) (Movie)
2021 – Dovus Horozu (as Hazar) (Movie)
2021 – Ali's Nature (Ali'nin Tabiati) (as Musa) (Movie)
Awards
2020 – 27. Adana Golden Cocoon Film Festival (27. Adana Altin Koza Film Festivali) – Promising Young Actor (Leyla Once Again) – Umut Veren Genc Erkek Oyuncu (Yeniden Leyla)
Theatre Plays
Kadinlar, Asklar, Sarkilar
Bernarda Alba'nin Evi
Kuyu
Tevaffuk (Yusuf ile Halit)
Artik Hicbi'sii Eskisi Gibi Olmayacak Sil Gozyaslarini (Avzer)
Woyzeck Masali
Apaci Gizlar
Hep Sonradan
Social
Instagram: https://www.instagram.com/ahmelish/
Twitter:
Facebook:
E-Mail:
Trivia
Body Type:
Skills:
Zodiac Sign:
Blood Type:
Hobbies:
Weight: 65 kg
Ahmet Melih Yilmaz Gallery
Timsah Celil Special Scenes in The Pit (Cukur) Tv Series
Çukur | Timsah Celil Özel Sahneler