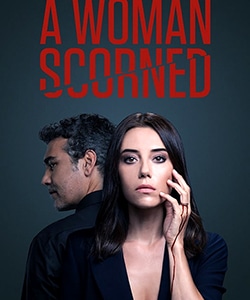 Details
Original Title: Sadakatsiz
English Title: A Woman Scorned
Also Known As: Unfaithful, Doctor Foster, Out of Love, The World of the Married, Infiel, Nevjera, Traicionada
Genre: Drama, Romance, Thriller
Episodes: 60
Broadcast Network: Kanal D
Broadcast Period: 7 October 2020 – 25 May 2022
Production Company: Med Yapim
Director: Neslihan Yesilyurt
Screen Writer: Mike Bartlett (original screenwriter), Kemal Hamamcioglu (screen writer for Turkish adaptation), Dilara Pamuk (screen writer for Turkish adaptation)
Filming Locations: Tekirdag, Turkey
Synopsis
Asya (Cansu Dere) is a 37-year-old general practitioner and the associate director at the hospital in the town of Tekirdag. She has a very successful career and has a perfect life together with her husband Volkan (Caner Cindoruk) and her teenage son Ali (Alp Akar). She has left her hometown Izmir to get married to her husband. She never regrets her decision until she starts to suspect that her husband is having an affair.
Volkan seems to be a perfect family guy. He is passionate, cares for his wife and his son, and acts in a responsible and considerate manner. He runs a small architecture company and works as an architect. Even though he loves his wife, he puts himself in a difficult position due to an extramarital affair.

Asya trusts her husband very much. However, she suspects him of infidelity when she finds out a blond strand of hair on Volkan's scarf. Asya tries her best to get rid of this situation but she cannot refrain from the bad feeling in her heart. Hence, she tries to investigate her husband.
Out of pure coincidence, Asya learns that her husband has been working with a female assistant Serap (Olcay Yusufoglu) for at least one year. Serap says that Volkan cares about a work-family balance and gets off work around 5 pm each day. Upon learning this fact, Asya becomes surprised. This is because, her husband comes to their home around 8 pm each day and lies about his work hours.
Asya explains these concerns to her friends Bahar (Yeliz Kuvanci) and Derya (Ozge Ozder) who are both the childhood friends of her husband Volkan. Bahar is her neighbor while Derya is a doctor at the same hospital where Asya works. When Asya questions about her marriage, both Bahar and Derya comfort her and persuade her that these concerns are unfounded.
Despite her friends' piece of advice, Asya decides to chase her husband in a secret way. She leaves from the hospital around 4:30 pm and goes to her husband's workplace. When Volkan leaves the workplace, Asya starts to chase him. However, her follow-up leads her to the house of her ailing mother-in-law. Asya tries her best not to let her emotions show and behaves as if she has come across to her husband out of pure coincidence. Volkan explains that he visits his mother almost every day due to her worsening condition. However, upon having a little chat with a caretaker, Asya learns that Volkan has not been visiting his mother for almost one month.
Asya has nothing to do but to reveal the truths in order to return her normal life. She knows for sure that her husband has been lying. Now, she needs to learn the woman whom her husband is having an affair. She makes a deal with a young patient Nil (Nazli Bulum). According to the deal, Asya writes out a prescription of sleeping pills and Nil accepts to follow Volkan.
The next day, Nil follows Volkan by car and she discovers that he is meeting with a young woman. She cannot see the face of the woman but she takes a photo of her car. Meanwhile Asya organizes a birthday party for her husband and tries to keep calm. She tries her best not to show her true colors.
On Volkan's birthday party, Asya searches his car in order to find more evidence. In the car, she discovers a hidden compartment in the trunk. In that hidden compartment, she finds a cell phone with a background photo of a young woman Derin (Melis Sezen) who is the daughter of one of her patients. In the phone gallery, she finds photos of a joint vacation of Volkan, Derin, and her friends Bahar and Mert (Eren Vurdem). In the phone messages, she sees the message of her friend Derya who is aware of the secret affair. Asya discovers that she has been betrayed not only by her husband but by her friends for a long time.
Asya is determined not to become a victim. She is a strong woman and has a courage of confronting with her husband and her friends.
A woman scorned (sadakatsiz – unfaithful) tv series story is about a married couple whose lives turn upside down due to an extramarital affair. Will Asya forgive her husband and continue her life as it is? Will Derin understand that Volkan has no intention of getting divorced? Will Volkan choose his wife Asya or his young girlfriend Derin? Will Asya take her revenge from her husband? Will Asya forgive her friends Derya and Bahar?
A Woman Scorned (Sadakatsiz – Unfaithful) Tv Series Cast
Additional Cast Members
Berkay Ates as Aras Atesoglu
Meltem Baytok as Cavidan
Zerrin Nisanci as Nevin
Dora Dalgic as Selen
Dogan Can Sarikaya as Demir Guclu
Yaren Vera Salma as Zeynep Arslan
Safak Baskaya as Kadir Gunes
Sumeyye Aydogan as Ceren
Gamze Buyukbasoglu as Pelin
Asli Orcan as Leyla
Ali Il as Melih Ergener
Aydan Tas as Didem Aktas
Mahmut Gokgoz as Altan Sayginer
Nilgun Turksever as Hicran Dagci
External Links
Official Site: Broadcast Network
English Wikipedia:
Imdb:
Social
Instagram: @sadakatsizdizi
Twitter: @sadakatsizdizi
Facebook: @sadakatsizdizi
Youtube Channel: @Sadakatsiz
You Might Also Like
Mother (Mom)
Forbidden Love (Ask-i Memnu)
A Woman Scorned (Sadakatsiz – Unfaithful) Turkish Drama Relationship Chart