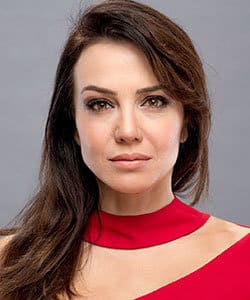 Profile
Name: Deniz Ugur
Birthdate: October 17, 1971
Birthplace: Ankara, Turkey
Height: 177 cm
Eye Color: Green
Hair Color: Brown
Education: Istanbul University State Conservatory – Theatre (Istanbul Universitesi Devlet Konservatuvari Tiyatro) (1995)
Talent Agency: Icon Talent
Spouse: Sirzat Bilallar (m. 1992-1995), Ismail Hakki Sunat (m. 1996-2004), Reha Muhtar (m. 2007-2009), Orcun Benli (m. 2013-present)
Biography: Deniz Ugur was born in 17 October 1971 in Ankara. She is the only child of famous Turkish opera singer Mete Ugur and ballet dancer Suna Ugur. She is the granddaughter of Keriman Halis who was Turkish Miss Beauty 1932 and Miss Universe 1932. She first studied ballet at Istanbul State Conservatory and after then, she studied theatre at the same Conservatory. Deniz Ugur took part in various theatre plays and tv series/movies but she became very popular with her role as Sanem in popular Turkish drama I Named Her Feriha (Adini Feriha Koydum).
Deniz Ugur Tv Series / Movies
1993 – Summer House (Yaz Evi) (as Nuran)
1996 – A Man's Anatomy (Bir Erkegin Anatomisi) (Movie)
1997 – Fake World (Yalan Dunya) (as Deniz)
1999 – Dog-Eat-Dog World (Kurtlar Sofrasi) (as Umit)
2000 – Mert Ali (as Ayla) (Movie)
2001 – Wish Me Luck (Bana Sans Dile) (as Yurdanur Hoca) (Movie)
2001 – Would You Marry Me (Benimle Evlenir Misin) (as Esra Senoglu)
2006 – Hayatim Sana Feda (as Zeynep Basaran)
2006 – Fake Princess (Sahte Prenses) (as Ceylan)
2007 – I am Becoming a Father (Baba Oluyorum) (as Canan)
2007 – Delayed Lives (Ertelenmis Hayatlar) (as Gulfidan)
2008 – Broken Loves (Paramparca Asklar) (as Deniz)
2011 – 2013 I Named Her Feriha (Adini Feriha Koydum) (as Sanem)
2013 – Desperate Housewives (Umutsuz Ev Kadinlari) (as Gulsah)
2012 – Let It Be the End (Bu Son Olsun) (as Nimet Hemsire) (Movie)
2014 – Gulyabani (as Gunes) (Movie)
2015 – Love Time (Ask Zamani) (as Reyhan)
2015 – Detail (Detay) (as Duygu) (Movie)
2015 – Black Box (Kara Kutu) (as Canan)
2017 – Orphan Flowers (Kirgin Cicekler) (as Macide)
2017 – Bir Deli Sevda (as Alev)
2017 – Hep Yek 2 (as Asli) (Movie)
2018 – Crime of Humanity (Insanlik Sucu) (as Emel Gokdemir)
2019 – Ruthless City (Zalim Istanbul) (as Seher Yilmaz)
Awards
1997 – 9. Ankara Film Festival (9. Ankara Film Festivali) – Promising New Actress (A Man's Anatomy) – Umut Veren Yeni Kadin Oyuncu (Bir Erkegin Anatomisi)
Social
Instagram: https://www.instagram.com/denizugur4real/
Twitter:
Facebook: https://www.facebook.com/denizugurofficial/
E-Mail:
Trivia
Body Type:
Skills:
Star Sign:
Blood Type:
Hobbies:
Deniz Ugur Gallery
Detail (Detay) (as Duygu) (Movie)
Deniz Ugur - Turkish Actress