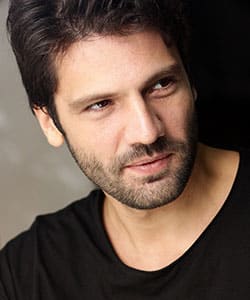 Profile
Name: Kaan Urgancioglu
Birthdate: May 8, 1981
Birthplace: Izmir, Turkey
Height: 183 cm
Eye Color: Brown
Hair Color: Brown
Education: Marmara University, Department of Capital Markets and Stock Exchange
Talent Agency:
Spouse:
Biography: Kaan Urgancioglu was born in 8 May 1981 in Izmir. After graduating from Marmara University, he did his master's degree in Film and Drama at Kadir Has University. He also took acting lessons at New York Stella Adler Studio of Acting. Kaan Urgancioglu made his debut with her role in turkish series Karaoglan in 2002. Between 2002 and 2006, he was interested in his education and after then, he continued his acting career with important television projects.
Kaan Urgancioglu Tv Series / Movies
2002 – Karaoglan (Karaoglan) (as Karaoglan)
2003 – Campus Team (Kampusistan) (as Tolga)
2005 – I Missed You So Much (Seni Cok Ozledim) (as Ates Erturc)
2005 – Silent Night (Sessiz Gece) (as Anil)
2005 – Wren Once Again (Yeniden Calikusu) (as Ali)
2006 – I Wish I Were a Cop (Ah Polis Olsam) (as Nezih)
2006 – Pain Road (Azap Yolu) (as Yigit)
2006 – Gulpare
2006 – First Love (Ilk Ask) (as Arif Ege) (Movie)
2007 – Last Class: Love and University (Son Ders: Ask ve Universite) (as Ulas Atilla) (Movie)
2007 – Captive (Tutsak) (as Mehmet)
2009 – My Dear Family (Canim Ailem) (as Talat)
2008 – Lemon Tree (Limon Agaci) (as Kaan)
2009 – Break Up (Ayrilik) (as Deniz)
2009 – Busra (as Titrek) (Movie)
2010 – 2011 Duruye's Vessels (Duruye'nin Gugumleri) (as Umit)
2010 – Consecutive (Pespese) (as Harun) (Movie)
2011 – One Life Isn't Enough (Bir Omur Yetmez) (as Eren)
2011 – 2012 Leyla and Mecnun (Leyla ve Mecnun) (as Berkcan)
2012 – Weird Stories (Acayip Hikayeler) (as Alper)
2012 – Enemy Brother (Dusman Kardesler) (as Mehmet)
2012 – The End (Son) (as Tayfun)
2013 – L.O.V.E (A.S.K) (as Can Vural)
2014 – 2015 Filinta (Filinta: Bir Osmanli Polisiyesi) (as Otto Petrovic)
2014 – Antidote (Panzehir) (as Mehmet Korkut) (Movie)
2015 – Not So Far Away (Uzaklarda Arama) (as Tayfun) (Movie)
2015 – 2017 Blind Love (Kara Sevda) (as Emir Kozcuoglu)
2019 – Baron 2 (as Cecen) (Movie)
2020 – 2021 Love 101 (Ask 101) (as Kemal)
2021 – Judgement (Yargi) (as Ilgaz Kaya)
Awards
Social
Instagram: https://www.instagram.com/kaanurgancioglu/
Twitter: https://twitter.com/kaanurgancioglu
Facebook:
E-Mail:
Trivia
Body Type:
Skills:
Star Sign: Taurus
Blood Type:
Hobbies:
Weight: 75 kg
Kaan Urgancioglu Gallery
From Interview of Kaan Urgancioglu (with English Subtitle)
Kaan Urgancıoğlu'ndan Kara Sevda dizisine dair merak edilenler | 10 Dakika