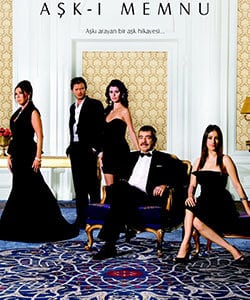 Details
Original Title: Ask-i Memnu
English Title: Forbidden Love
Also Known As: Lubire Ascunsa (Romania), Al Ashq IL Mamnou (Arabic), Al 3eshk Al Mamno3 (Arabic), Strasti Orijenta (Hrvatski), Amor Prohibido (Spanish), Ishq E Memnu (Arabic)
Genre: Romance, Drama
Episodes: 79
Broadcast Network: Kanal D
Broadcast Period: September 4, 2008 – June 24, 2010
Production Company: Ay Yapim
Director: Hilal Saral
Screen Writer: Ece Yorenc, Melek Gencoglu
Synopsis
Adnan (Selcuk Yontem) lives in one of the most important shore houses in Istanbul with his two children, a relative's son Behlul (Kivanc Tatlitug), and his children's half-french nanny. When Adnan meets Bihter (Beren Saat), he suddenly falls in love with her.
Bihter is also a socialite couple's daughter. She wants to get revenge from her mother, Firdevs (Nebahat Cehre), because her father had died whilst catching her mother cheating on him. Therefore, she decides to marry Adnan, an older, rich and successful guy, because she thinks that by this way she can prevent her mother from marrying him. Although there is a huge age difference and although Firdevs and Adnan's daughter Nihal (Hazal Kaya) don't want this marriage, Bihter and Adnan eventually get married.

While searching for peace, safety and happiness in Adnan's shore house, Bihter meets passion. At the beginning, she shows no interest in Behlul who develops a crush on her. However, as time passes Behlul and Bihter fall completely into each other and become drowned by their infatuation with each other. They start having a secret and passionate affair and their secret love affair soon affects every member of the family.
In forbidden love (Ask-i Memnu) tv series story which is based on the work of the foremost Turkish author Halit Ziya Usakligil, you will explore a secret love affair full of twists and surprises. Will Bihter and Behlul start to love each other without fear, guilt and regret? Will passion and love capture the loyalty? Will betrayal shade the innocence?
Forbidden Love (Ask-i Memnu) Tv Series Cast
Recognitions
37. Golden Butterfly Awards (2010): Best Actress (Beren Saat)
36. Golden Butterfly Awards (2009): Best Actress (Beren Saat)
36. Golden Butterfly Awards (2009): Best Actor (Kivanc Tatlitug)
36. Golden Butterfly Awards (2009): Best Drama (Aski Memnu)
Main Characters' Other Popular Dramas
Beren Saat: Love In Exile (Aska Surgun), Remember Darling (Hatirla Sevgili), What is Fatmagul's Fault? (Fatmagul'un Sucu Ne?)
Kivanc Tatlitug: Silver (Gumus), Menekse and Halil (Menekse ile Halil)
External Links
Official Site: https://www.ayyapim.com/en-us/forbidden-love
Official Site 2: https://www.kanald.com.tr/ask-i-memnu
English Wikipedia:
Imdb:
Youtube Channel: https://www.youtube.com/channel/UCIdiuKAg5xVZsvXDQbOG4cg
You Might Also Like
1001 Nights (Binbir Gece)
Vine Mansion (Asmali Konak)
Forbidden Love (Ask-i Memnu) Turkish Drama Relationship Chart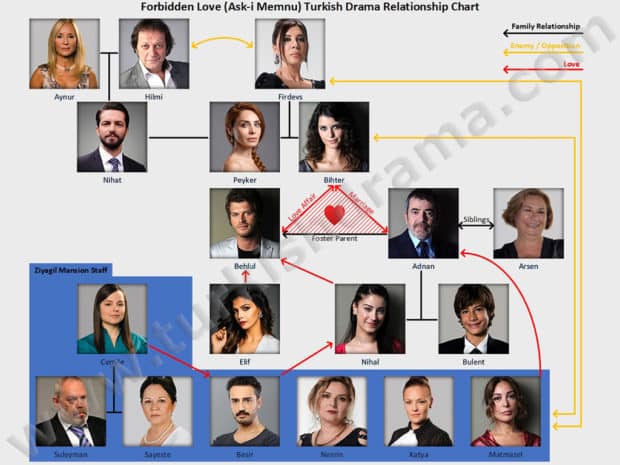 Forbidden Love Turkish Series Gallery
Forbidden Love (Ask-i Memnu) Tv Series Trailer (with English Subtitle)
Forbidden Love (Ask-i Memnu) Trailer (Eng Sub)