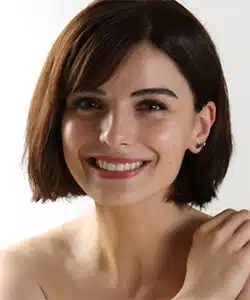 Profile
Name: Sevtap Ozaltun
Birthdate: September 12, 1984
Birthplace: Artvin, Turkey
Height: 162 cm
Eye Color: Green
Hair Color: Brown
Education: Halic University State Conservatory – Theatre (Halic Universitesi Devlet Konservatuvari Tiyatro Bolumu)
Talent Agency: Abdullah Bulut Management
Spouse:
Biography: Sevtap Ozaltun was born 12 September 1984 in Artvin. She started to take part in theatre plays in 2001 at Bakirkoy Actors' Association (Bakirkoy Sanatcilar Dernegi). In 2009, she graduated from Istanbul Halic University State Conservatory. After graduation, she worked at various theatres for 2 years. She started her televison career with a popular Turkish series My Dear Family (Canim Ailem). In 2012, She founded a theatre group named Oyun Sandali.
Sevtap Ozaltun Tv Series / Movies
2008 – 2010 My Dear Family (Canim Ailem) (as Ahsen)
2010 – 2012 What Is Fatmagul's Fault? (Fatmagul'un Sucu Ne?) (as Asude / Hacer Ovacikli)
2011 – After Revolution (Devrimden Sonra) (as Elif) (Movie)
2013 – L.O.V.E (A.S.K.) (as Ece)
2014 – Rain: Flower of Judgment Day (Yagmur: Kiyamet Cicegi) (as Seher) (Movie)
2014 – Buddy Istanbul (Ulan Istanbul) (as Derya)
2016 – On The Wings of Love (Sevda Kusun Kanadinda) (as Tumay Erbay)
2017 – Dus Kirginlari (Movie)
2018 – Gulizar (as Mine)
2018 – Crash (Carpisma) (as Asli Adali)
2019 – Nobody Knows (Kimse Bilmez) (as Ozlem)
Awards
Social
Instagram: https://www.instagram.com/sevtapozaltunn/
Twitter:
Facebook:
E-Mail:
Trivia
Body Type:
Skills:
Zodiac Sign:
Blood Type:
Hobbies:
Weight:
Sevtap Ozaltun Gallery