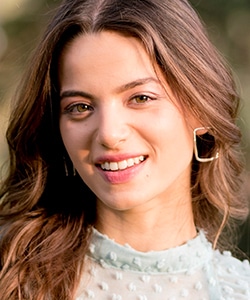 Profile
Name: Leyla Tanlar
Birthdate: December 13, 1997
Birthplace: Istanbul, Turkey
Height: 1,63 m
Eye Color: Green
Hair Color: Brown
Education: Koc University – Media and Visual Arts (Koc Universitesi Medya ve Gorsel Sanatlar Bolumu)
Talent Agency: Artistanbul Management
Spouse:
Biography: Leyla Tanlar was born on 13 December 1997 in Istanbul. Her maternal family is Turkish origin who immigrated from Thessaloniki in 1900s while her grandmother from father's side came from a Levantines family who immigrated from Pesaro, Italy to Ottoman Empire in 1800s. She graduated from Italian High School (Liceo Italiano I.M.I.) and continues her education at Koc University, Department of Media and Visual Arts. She started her acting career with the series Broken Pieces (Paramparca). Leyla Tanlar also took acting training at Akademi 35Bucuk and attended to the acting workshops of University of California At Los Angeles (UCLA). She received "Most Promising Actress Award" from Gelisim University.

Leyla Tanlar Tv Series / Movies
2014 – 2017 Broken Pieces (Paramparca) (as Cansu Gurpinar)
2018 – Mehmed: The Conqueror (Mehmed: Bir Cihan Fatihi) (as Esleme)
2018 – Falcon Crest (Sahin Tepesi) (as Deniz Akdora)
2019 – Ferhat and Sirin (Ferhat ile Sirin) (as Sirin)
2022 – Kacis (as Nevi)
2022 – Forever Together (Guzel Gunler) (as Selma)
Awards
2014 – Gelisim Universitesi Most Promising Actress Award – (Gelisim Universitesi En Cok Gelecek Vaad Eden Oyuncu Odulu)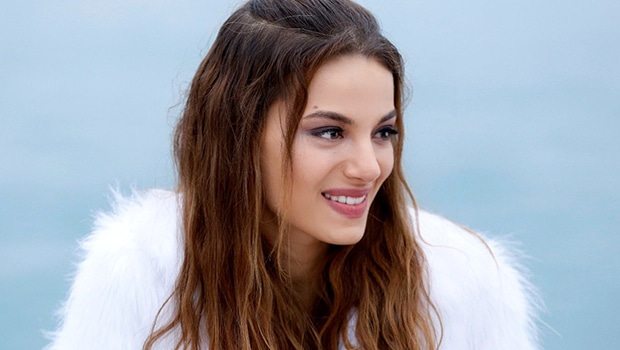 From the Interview with Leyla Tanlar
Do you make great sacrifices for love?
When it comes to giving up something I love, something I am happy to do, then it is hard to make sacrifices. Because I do everything I do with great passion. Someone who wants me to give up the things I already love cannot really love me. The person who respects and supports what I want to do is really in love with me. I cannot predict the other things very much because so far I have not encountered a situation that requires me to make great sacrifices.
Is playing the ney push you too hard?
I thought it would help me a lot to play the side flute. Blowing ney is something else. It is certain that it is very difficult but it is a very interesting and beautiful experience for me. I have taken private lessons during the preparation process, but you have to spend a lot of time and patience to make a sound. It is certainly not like other instruments.
What kind of childhood did you have?
I grew up away from the urban chaos of Istanbul and intertwined with nature. When I was a little child, I used to play in the streets. I grew up on the street, on a bike, skating, climbing trees, jumping, and jumping with my dear dog.
Is it difficult to build intimacy with you?
I get very close with the person with whom I have similar energy. But I don't get to know many new people outside of work because I am a very homely type. When I do not work, I spend most of my time at home.
What is the most challenging aspect of your personality? Are there any parts of you that you say, I would like to be more flexible?
I have so many different interests. When I should be enjoying it, the lack of time stresses me out. I am a little bit controlled. I want to take care of everything myself. That challenges me, but on the other hand, I don't want to be more flexible. I'm happy to be like this.
What has been life's greatest gift to you?
My family, my dog, my childhood, my upbringing…
What do you enjoy doing the most?
Coming home after a busy set day or a tough exam and getting under the blanket.
Social
Instagram: @leylatanlaar
Twitter: @leylatanlar
Facebook:
E-Mail:
Trivia
Body Type:
Skills:
Zodiac Sign: Sagittarius
Blood Type:
Hobbies:
Weight: 48 kg